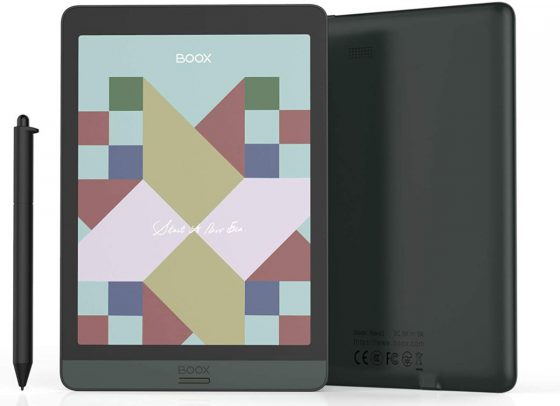 Onyx released the Nova3 Color with a 7.8-inch color E Ink screen in early March 2021, but it's been out of stock most of the time since then.
Now the Nova3 Color is back in stock on Onyx's Amazon store and directly from their website from multiple warehouses.
However, they created a new listing on Amazon instead of using the previous one so now none of the old links work. Onyx is always creating multiple listings for the same product and it just makes things confusing. I don't know why they do that, but now the old page is hidden from search results so people can't even read the reviews if they want to.
In my Nova3 Color review I was critical of the ghosting issues and downgraded contrast compared to regular E Ink screens, but they did release a software update that's supposed to help some with the ghosting problems.
You can get an extra 5% off when purchasing the Nova3 Color from Onyx's website when using PayPal through June 20th, and they add a cover and some free accessories, but if you're unsure about color E Ink I would advise buying from Amazon because of their easy returns. Onyx has an unfriendly return policy on their website that requires the buyer to pay for return shipping to China, even if the device is defective out of the box.
I'm still not sold on color E Ink because of the lower contrast with regular text, but in my opinion the Nova3 Color is currently the best option if you want to try a device with a color E Ink screen because of the open Android operating system and overall specs. I still think the larger Note Air is a better device for only $60 more, but obviously it doesn't support color.