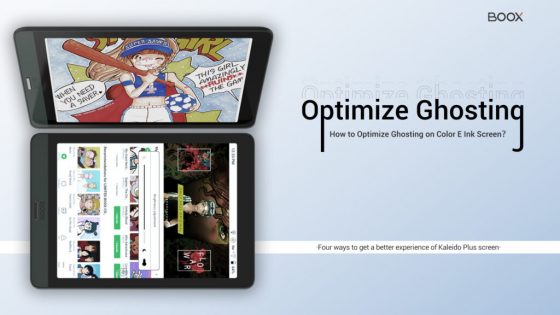 Onyx has released another software update for the Nova3 Color that helps optimize the way the screen refreshes to minimize afterimage effects and unwanted artifacts (called ghosting) from showing up on the color E Ink screen.
They uploaded a YouTube video (embedded below) showing how their updated Regal Refresh Mode has improved refresh performance when using the NeoReader app.
One of the biggest complaints noted in my Nova3 Color review was the excessive amount of ghosting with color E Ink, and it seems to be worse with Onyx's devices than Pocketbook's, so it's good to see Onyx is working to improve that.
However, it looks like they've already forgotten the Poke2 Color exists. It was just released like 9 months ago and yet there's no mention of it getting the update. At this point it appears they've fully moved on to the Nova3 Color; the Poke2 Color is old news—it's not even listed on their website to purchase anymore.
What's even weirder is the article they posted is titled, How to Optimize Ghosting on Color E Ink Screen, and yet the Poke2 Color isn't mentioned once.
Nonetheless, the article does point some ways to improve the reading experience on color E Ink screens. It's pretty obvious if you've used Onyx's devices for any length of time, but for those new to Onyx's software here are some ways to optimize the E Ink screen to minimize ghosting issues:
Use the "Normal Mode" refresh option from the settings menu.
Enable "Deep Refresh" when using NeoReader.
Pin the "Refresh Button" to the Navigation Ball to quickly activate a full screen refresh at anytime.
From the settings menu you can assign "Full Screen Refresh" to a gesture so you can trigger a refresh by swiping.
Nova3 Color Refresh Update