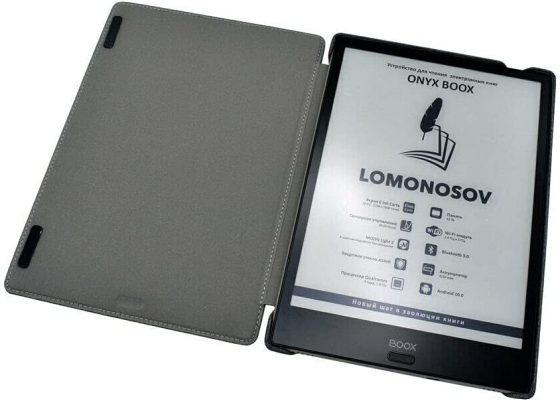 A new 10-inch Onyx ereader called the Boox Lomonosov has turned up for sale on Amazon for $399 with free shipping and it comes with a case.
It's one of Onyx's Russian models with a weird name and slightly different features than their other 10-inch Note models. This particular model is not currently shown on Onyx's website so either they haven't announced it yet or they're only going to sell it in limited markets.
The Onyx Boox Lomonosov is a budget model with a lower resolution screen than Onyx's other 10-inch devices, and it doesn't appear to come with a stylus or support note-taking.
It's basically Onyx's answer to the Likebook P10 that was released earlier this year.
It has a 1600 x 1200 E Ink Carta screen with 200 ppi instead of 227 ppi like other 10-inch models, and it lacks a Wacom touchscreen for writing with a stylus.
Otherwise it appears similar to Onyx's other devices from a specs standpoint, with a 1.8GHz octa-core CPU, 32GB of storage, 3GB of RAM, Bluetooth, WiFi, and a USB-C port. It also has a frontlight with adjustable color temperature. It weighs 420 grams and has a 3150 mAh battery.
The Boox Lomonosov runs Android 10 like Onyx's other current models so you can install Android apps. However, be warned, these Russian models don't usually get software updates like Onyx's regular models, and some of the software features might be slightly different.
It's good to see the prices of these 10-inch E Ink ereaders coming down but I still think the Onyx Note Air is a better value, especially now while it's on sale for $455 from Onyx's website. It has a better screen, a nicer design, and it comes with a stylus and Wacom touchscreen. But either way it's nice to have more options.