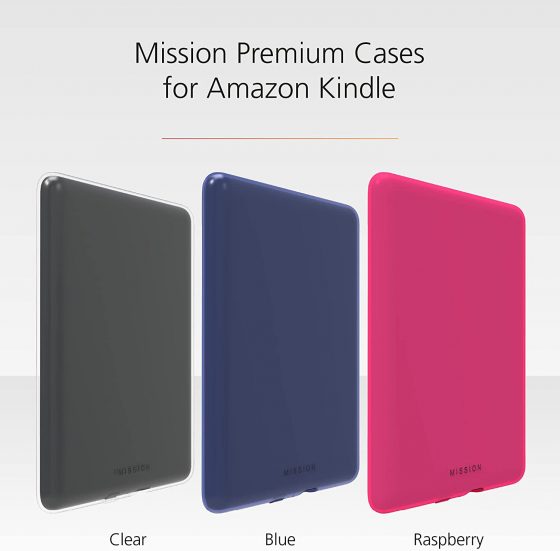 I came across a listing for a new style of case that turned up a couple months ago for the current entry-level Kindle, the 10th gen basic model.
It's a Mission Case "made for Amazon" that sells for $14.99 and comes in three colors choices—clear, blue, and raspberry.
It's a soft rubbery type of case that fits over the back of the Kindle. It's the kind that doesn't have a front flap.
It only fits the current basic Kindle, not the Kindle Paperwhite or any of the previous models.
Of course these type of covers don't provide any protection for the screen so their effectiveness can be debated. But as noted in an earlier post, the plastic casing on the 10th gen Kindle scratches very easily, so using a cover like this could help keep it in good condition.
I like how the case adds a rounded edge to the front that provides a little more grip to hold onto, and I like how it protrudes slightly so you can set the Kindle face-down on a table without scratching the front or the screen.
Please note I have not tried this case; I'm just going off of what's shown in the pictures at Amazon. I had a case similar to this in the past for a different device and liked it. I could go for something like this on the Kindle Oasis during the cold winter months to cover the cold metal back.
I'm surprised they don't sell these for the Kindle Paperwhite too. With the clear case you could still see the different colored backs they offer on the Paperwhite model.