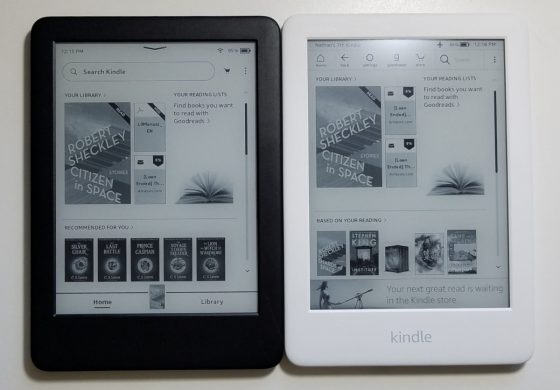 Earlier this week Amazon released a new software update, version 5.13.7, for Kindle ereaders that changes some of the user interface elements and navigation options.
One surprising change that seems to have gone relatively unnoticed so far (I've yet to see a single comment about it) is the fact that ad-supported Kindles no longer show banner ads at the bottom of the homescreen and library.
One of the main changes to the user interface with this new update is Home and Library buttons were added to the bottom of the homescreen and library list, with a thumbnail for the most recently-read book placed between them to quickly jump back to reading.
If you have an ad-supported Kindle, also called Kindles with Special Offers, you now have less ads to look at so that's definitely a plus.
There are still ads on the sleep screen when the Kindle is turned off, and you still have to swipe the screen upon waking up to turn the Kindle on (unlike ad-free Kindles), but at least they finally removed the banner ads at the bottom of the homescreen and library list.
Hopefully this isn't just a temporary glitch but I don't think it is because it would simply look terrible if they tried to squeeze a banner ad in between the book list and new Home/Library tab—there's only enough room for one or the other.
Personally I was a bit hesitant to update to the newer software after reading that you can no longer turn off Home Screen view (I liked having it default to Library view instead), but to me it's a fair trade for getting rid of the banner ads, and you can still avoid the homescreen (with its recommended titles) most of the time.
I also think the new quick settings menu is more functional now because you can access it while reading with just one swipe down instead of having to tap the screen to open the menu and then tap the screen again to open settings, so it's easier to adjust the frontlight.
What do you think about the new update?