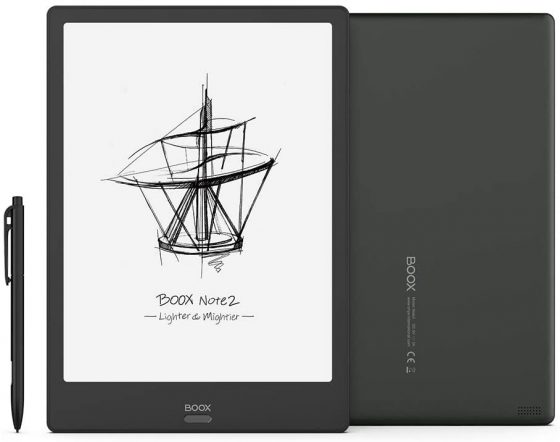 Onyx's previous generation 10.3-inch Note2 model is currently selling for its lowest price ever on Amazon at $439 with free shipping.
The Note2 is still more advanced than any other ereader on the market outside of the Note3, which sells for $549, and even then the differences are virtually unnoticeable.
The Note2 was replaced by the Note3 after only 6 months because Onyx is always chasing the next "upgrade". The Note3 has been available for 10 months now so it's most certainly about to get replaced too.
If you absolutely must have the latest and greatest gadget Onyx is happy to oblige, but if you're looking for the best value the Note2 is the best deal in terms of overall features and price.
The Note2 runs software based on Android 9 so it's open to install Android apps. The Kindle app works surprisingly well, as do other reading apps.
If I was currently in the market for a 10.3-inch ereader and notebook, this is one I would get. In fact I still have the Onyx Note2 and was just using it yesterday.
At $439 it's a bargain compared to other similar models. It has an upgraded Mobius screen that's lighter and more durable than a lot of the other cheaper models (it also has a frontlight with adjustable color temperature), and the overall specs are better too with an octa-core CPU, 4GB of RAM, and 64GB of storage space.
There's only 3 left so the deal probably won't last long, but they've been selling it for nearly a year since it was replaced so it wouldn't be surprising to see more of them turn up, and it's worth considering if you're in the market for a 10.3-inch ereader, despite being an "older" model.