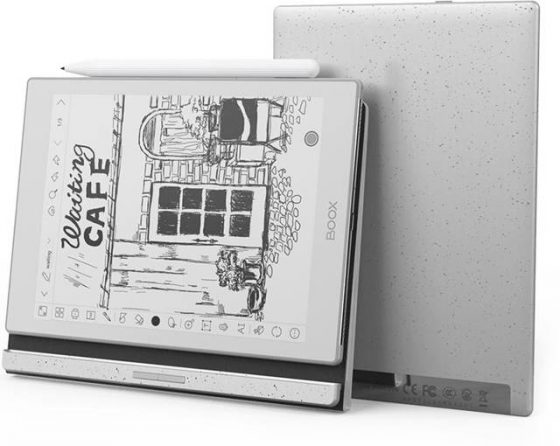 Onyx has officially announced the upcoming release of a new 7.8-inch ebook reader and E Ink notepad called the Onyx Boox Nova Air.
Interestingly, the Nova Air is mostly the same as the previous Nova3 from a software and hardware standpoint (there aren't any notable improvements to speak of in that regard), but it does have a revised design with an all-white exterior, along with a metal back, and they added magnets to the sides to hold the stylus and a new type of cover in place.
In fact the most intriguing thing about the Nova Air is the upgraded cover adds two page buttons to one side of the screen. This is an interesting idea that other companies should consider as well.
The Nova Air is 30 grams lighter and 1.4mm thinner than the Nova3, but it has the same 300 ppi E Ink Carta screen, and most of the specs are identical (32GB of storage, 3GB of RAM, Bluetooth, WiFi, USB-C, dual-colored frontlight), although Onyx claims it has an upgraded processor.
One detail worth noting, it appears the weight loss comes at the cost of a smaller battery. Onyx lists the Nova3 as having a 3150mAh battery, but the Nova Air only has a 2000mAh battery.
The Nova Air also runs Onyx's custom software that's based on Android 10, which is what the other current models run so there's no Android upgrade this time around.
The new Nova Air is available to pre-order from Onyx's website for $349, which includes a slipcover and replacement stylus tips. The upgraded magnetic cover costs an extra $59, but there's currently a coupon for 40% off (BOOXMC40).
Onyx Boox Nova Air Video