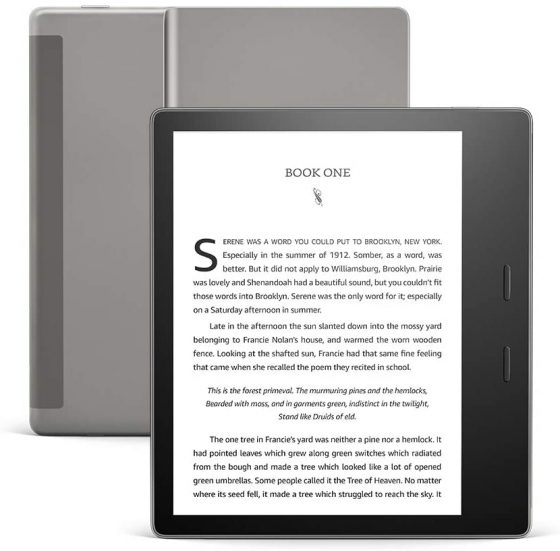 Now that Amazon is releasing a new Kindle Paperwhite with a 6.8-inch E Ink screen and a warm frontlight starting at $139, the 7-inch Kindle Oasis no longer makes sense at its current price of $249.
For an extra $110 all you get is page buttons, an aluminum back, a rotation sensor to flip the screen when switching hands, and a 0.2″ larger display. Considering that, the massive price difference is nonsensical.
The Kindle Oasis also adds an auto-adjusting frontlight but that's also available on the upgraded Kindle Paperwhite Signature Edition.
The Signature Edition also adds wireless charging, a USB-C port, and support for 5GHz WiFi, all things the more expensive Oasis lacks, and it also comes with 32GB of storage space and no ads for $189. Plus battery life on the new Paperwhite is rated at 10 weeks per charge when reading 30 minutes per day, whereas the Oasis is only rated for 6 weeks.
Meanwhile the 32GB Oasis sells for a whopping $279 with ads. That's another thing that makes no sense about the Oasis: you have to pay an extra $20 to get rid of ads on the 32GB version so it's really $299.
Since the new Paperwhite hasn't been released yet, maybe there are some other differences we don't know about yet, like maybe they're using a plastic-based front layer again like the previous Paperwhite, which reduces contrast slightly and shows fingerprints more than the glass front on the Oasis.
Outside of that, there's very little reason to spend $110 more on the Kindle Oasis now with the new 6.8-inch Paperwhite available. In fact the Oasis can now be seen as a downgrade in several ways.
It's kind of surprising Amazon didn't release a new premium Kindle to go with the new Paperwhite. This might be a sign that they intend to do away with the Oasis line. Maybe the Paperwhite Signature Edition is the premium model moving forward. I still think they should offer a model with page buttons but it's hard-telling what Amazon is planning. Either way it's pretty clear the Oasis isn't going to sell nearly as well now at its current price and configuration with the new Paperwhite around.