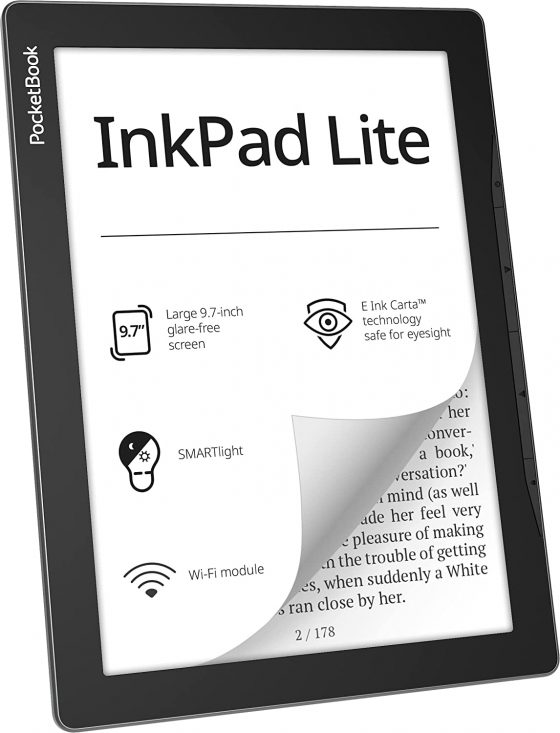 The PocketBook InkPad Lite is a new 9.7-inch ereader that was announced a couple months ago.
It's now available to purchase from Amazon for $279 with free shipping, making it the least expensive large-screen E Ink ereader that's ever been available (outside of clearance sales on the Kindle DX).
The PocketBook InkPad Lite is an unusual device for 2021. It has some good things going for it, like having a larger screen with a frontlight, and it's one of the only ebook readers that still offers a memory card slot for expandable storage, but the screen resolution is really low at just 150 ppi.
In fact it has the same screen resolution, 1200 x 825, that 9.7-inch ereaders had over a decade ago, like the Kindle DX. The only difference is it has an E Ink Carta screen instead of an E Ink Pearl screen, so contrast should be better. Plus the frontlight helps, and it even has adjustable color temperature, unlike the Kobo Elipsa.
The PocketBook InkPad Lite also has a USB-C port and a sensor to automatically rotate the screen, so it's not all bad for the price if you can get past the low resolution screen.
The Likebook P10 was previously the cheapest 10-inch ereader at about $350, but the PocketBook InkPad Lite comes in a lot lower, even if it does have considerably worse specs.
It's worth mentioning the InkPad Lite doesn't support using a stylus like most other large-screen ereaders but that's part of the reason why the price is so low. There's also the 10.3-inch PocketBook InkPad X with a better Mobius screen but it costs a lot more at $449.
PocketBook InkPad Lite Specs
Display: 9.7″ E Ink Carta with 825 × 1200 resolution (150 ppi)
Frontlight with adjustable color temperature
Capacitive touchscreen
Dual-core 1 GHz processor
512 MB RAM
8 GB Internal storage
2200 mAh Li-Ion polymer battery
G-sensor
Wi-Fi
USB-C port
MicroSD card slot
Supported formats: ACSM, CBR, CBZ, CHM, DJVU, DOC, DOCX, EPUB, EPUB(DRM), FB2, FB2.ZIP, HTM, HTML, MOBI, PDF, PDF (DRM), PRC, RTF, TXT
ABBYY Lingvo® dictionaries (24 language combinations), English – German, Webster's Dictionary 1913
Extras: PocketBook Cloud, ReadRate, Dropbox PocketBook, Send-to-PocketBook, Browser, Gallery, Calculator, Notes, RSS News, Chess, Klondike, Scribble, Sudoku
Dimensions: 236.2 × 173 × 7.9 mm
Weight: 369 grams
Price: $279 at Amazon