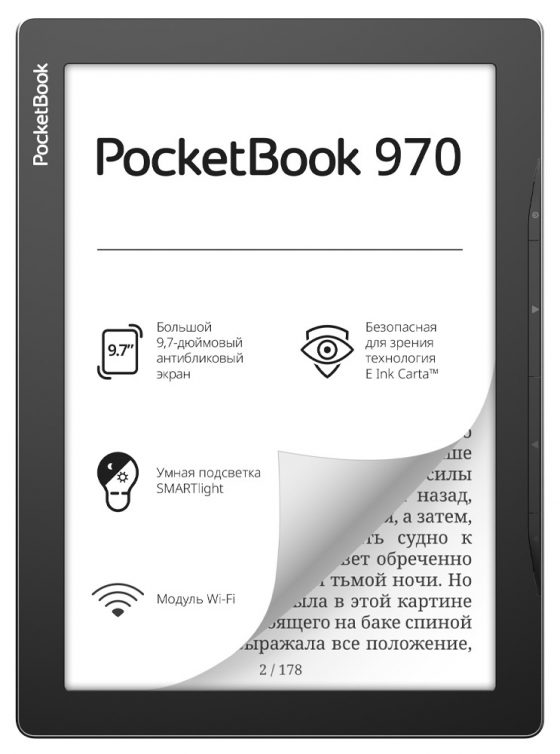 Yesterday PocketBook issued a press release announcing a new ereader with a 9.7-inch E Ink Carta screen called the PocketBook InkPad Lite.
It's basically a budget ereader with a large screen and it's expected to get released in autumn 2021. Rumor has it the price with be $299, making it the cheapest large-screen ereader on the market by about $50.
The PocketBook InkPad Lite is kind of an odd device in 2021 because PocketBook opted to use the cheapest screen possible, one with the same 1200 x 825 resolution that 9.7-inch E Ink screens used over a decade ago. That's only 150 ppi. Even the Likebook P10 has a better screen than that with 200 ppi and it's only about $50 more expensive and it also has an upgraded quad-core CPU with 2GB of RAM and a more versatile Android OS.
It's good to see prices coming down but the specs on the new PocketBook 970 are just so uninspiring in 2021. It's not much better than the PocketBook 902 that was released in 2010, and it's probably not much faster either. The PocketBook InkPad Lite sports a dual-core 1GHz CPU, with only 512MB of RAM, and 8GB of storage space.
On the plus side it does have a frontlight with adjustable color temperature, along with a USB-C port and a microSD card slot (but it only supports cards up to 32GB). The battery is on the smaller side for a larger device at 2200 mAh, but the overall weight is reasonable at 369 grams.
If you look at the image closely, you can see that it has page buttons on one side of the screen, something most other large screen ereaders lack.
The main complaint against the current 10.3-inch PocketBook InkPad X is that it's too slow, and unfortunately this new model is clearly a downgrade so it isn't going to be any faster, and the resolution is as low as it gets for an E Ink ebook reader. It's hard to see how downgrading the specs and using the lowest resolution screen possible is going to appeal to anyone. Welcome back to 2010!