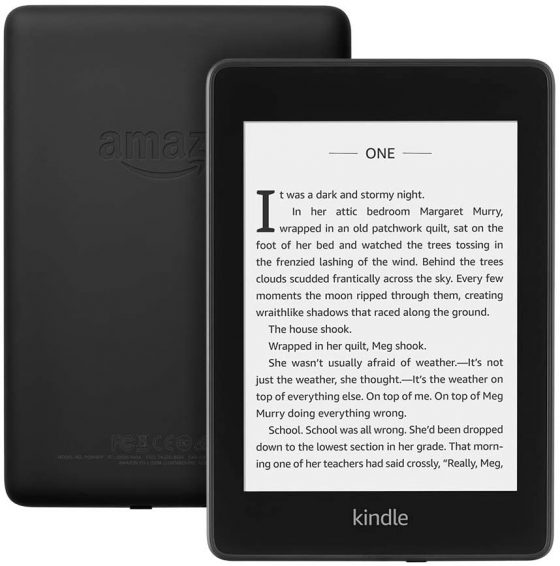 There was a time earlier this year when Kindle ereaders rarely went on sale, but that time has ended.
Now it seems like Kindles are on sale every week, especially since the new Kindle Paperwhite 5 came along.
This time the Kindle Paperwhite 4 is marked down to $79.99, and all colors are the same price, unlike last time where the blue model was cheaper.
The entry-level Kindle is on sale for $59.99 again too, and the older Kids Kindle is $69.99 (they're the same Kindle, and if you don't want ads you'd be better off getting the kids version).
Unfortunately Amazon's Kindle covers aren't on sale this time around, but they do have a 10% back offer when buying some of the Kindle models using a Prime card, and you can also add three months of Kindle Unlimited for free.
Too bad Amazon doesn't just keep the Paperwhite 4 around and make the price drop permanent. It's much nicer than the entry-level model and is easily worth spending an extra $20 on. Once it's gone then Amazon won't even offer a 6-inch 300ppi Kindle anymore, and that's really odd considering that's been the standard since 2014.
The entry-level Kindle only has 167ppi, the same as the very first Kindle that was released in 2007. At some point you'd think they'd want to upgrade that. It would make a lot more sense to discontinue the entry-level model instead of the Paperwhite 4, but at least for the time being you can still get a Paperwhite 4 for really cheap. The 8GB models use to sell for $129 and the 32GB version was $159.
Kindle Sales
Kindle – $59.99 ($30 off)
Kindle Paperwhite 4 – $79.99 ($50 off) 8GB model
Kindle Paperwhite 4 – $89.99 ($70 off) 32GB model
Kindle Paperwhite 4 – $174.99 ($75 off) 32GB cellular model
Kids Kindle – $69.99 ($40 off)