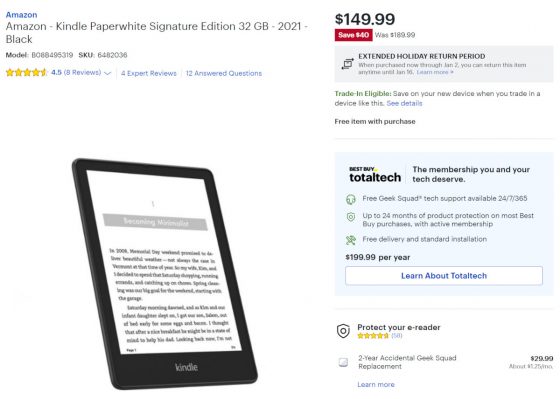 Amazon's upgraded version of the new 6.8-inch Kindle Paperwhite is now on sale for $149.99 at Best Buy, but it's only available from Best Buy retail stores that have some in stock.
Unfortunately the sale price is not available for online purchase, and the Kindle Paperwhite Signature Edition is still full price at Amazon; so far it's the only Kindle that hasn't gone on sale for Black Friday and Cyber Monday.
But if you have a Best Buy in your area you can check the Best Buy website to see if they have any available with the $149.99 sale price. That's $40 off the regular price of $189.99.
The Kindle Paperwhite Signature Edition comes with 32GB of storage instead of the standard 8GB, and it adds wireless charging and an auto-brightness sensor. It's also ad-free so it shows book covers or screensaver images on the lock screen instead of advertisements.
Otherwise it's exactly the same as the standard 8GB Kindle Paperwhite that Amazon has on sale for $104.99 (except that's with ads; it's $124.99 without). The better deal is the kids version for $114.99 without ads because it comes with a cover and an upgraded 2-year warranty.
I wonder if Amazon will put the Signature Edition on sale at all this holiday season. It's currently listed as "In stock soon" so maybe they just don't enough available yet for a sale.
See my Kindle Paperwhite Signature Edition review for a closer look at the differences with the upgraded SE version of the new Paperwhite.