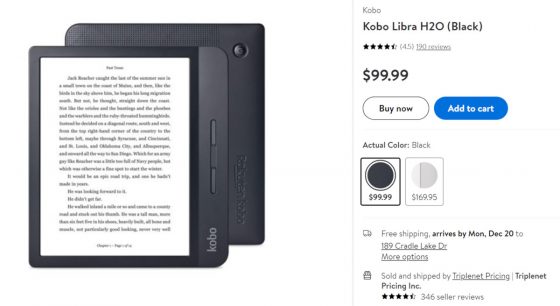 Deals on dedicated ebook readers keep turning up this time of year, and now there's another good deal on a Kobo ereader at Walmart.
The Kobo Libra H2O is currently marked down to $99 with free shipping. It's being sold by Triplenet Pricing, not Walmart directly.
It normally sells for $169 so that's a really big discount. In fact it's the lowest price I've seen by far. Kobo's Black Friday deal only took $20 off.
The Kobo Libra H2O has a 7-inch E Ink screen with 300 ppi and it has a frontlight with adjustable color temperature. It's also waterproof and comes with 8GB of storage. See my Kobo Libra H2O review for more details.
It was recently replaced by the Kobo Libra 2, which has more storage space, a USB-C port and a better screen and frontlight. But for $99 the older Libra is still worth considering.
They only have the black version available on sale for $99; the white version is still full price. The sale probably won't last very long, but it's a good deal while it's up.