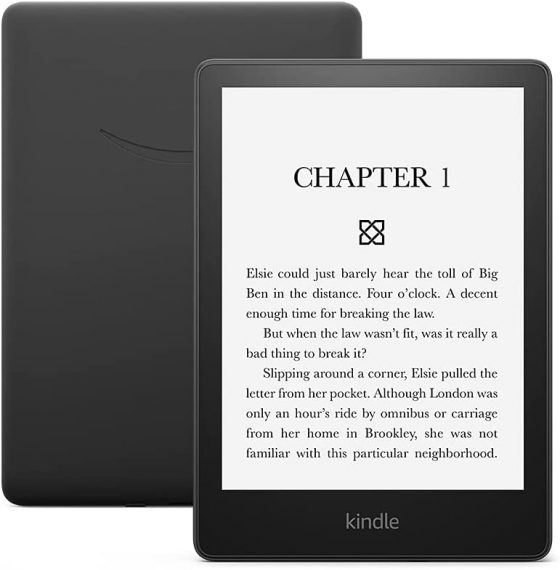 One of the changes with the new 6.8″ Kindle Paperwhite that Amazon released in 2021 is improved battery life compared to previous models.
Amazon claims the new Kindle Paperwhite's battery can last up to 10 weeks on a single charge, based on reading for 30 minutes a day with wireless turned off and the frontlight set to 13.
Based on the same parameters, Amazon's estimate for the previous generation Kindle Paperwhite 4 was 6 weeks, so a four week increase is rather significant. The Paperwhite 3 was also rated at 6 weeks, but with the light set to 10. The Paperwhite 2's estimate was 8 weeks with its lower resolution 212 ppi screen.
Since everyone uses their Kindle differently, it would be interesting to hear other people's take on the new Kindle Paperwhite's battery life.
How long does your Kindle's battery last between charges?
To me the new Paperwhite's battery does indeed seem to last a really long time, but sometimes I have a difficult time judging battery life because I usually jump back and forth between different devices, and with E Ink ereaders there's just no good way to scientifically measure battery life. I've tried keeping track before, reading X amount of minutes per day, but it's just too time consuming and there are too many variables involved, and I don't think battery life meters are 100% accurate or linear across the full range.
One thing to note, Kindle batteries will drain a lot faster if you add a bunch of new content all at one time because Kindles index everything for faster searches and that takes a lot of processing power initially until everything gets indexed. Kindles can also sometimes get stuck indexing an ebook and battery life will keep draining quicker than normal.
Probably the biggest complaint against the Kindle Oasis over the years has been its poor battery life. Thankfully Amazon improved battery life on the 6.8″ Kindle Paperwhite.
If you want to get the most out of your Kindle's battery, see this earlier post with 8 Tips to Extend Battery Life on Kindles.