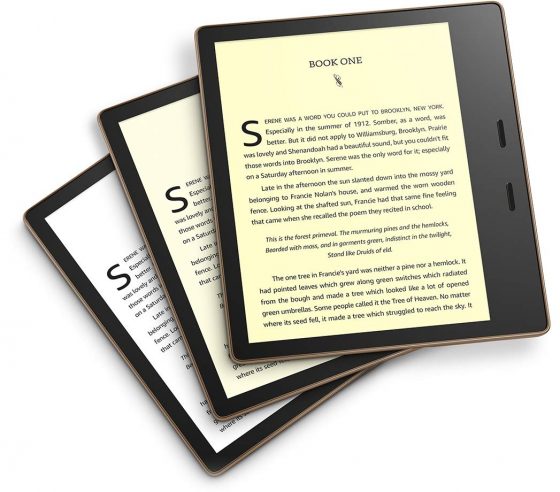 A number of people have asked about what new Kindles Amazon could potentially be releasing in 2022, so I figured it would be a good time to post a new Kindle speculation article.
Amazon released the 6.8-inch Kindle Paperwhite last October so it most certainly isn't getting replaced anytime soon. But it can be used a guideline of sorts about what to expect from upcoming new Kindles.
I would say the model that is most likely to get replaced next is the entry-level Kindle. The current model was released 3 years ago this month. That's actually the longest the entry-level Kindle has gone without being replaced by a newer model since the Kindle was first released in 2007. Amazon used to upgrade it every year or two, but the last one took was just under 3 years, and now they've just surpassed 3 years with the current model so the development process has really slowed down over the past several years.
It's hard to predict what changes will be made to the next entry-level Kindle because Amazon tends to change very little each time a new one is released. For instance, the Kindle still uses the same low resolution 800 x 600 6-inch display as the original Kindle that was released in 2007. The screen itself has improved but the resolution has not. That seems like the most obvious thing to upgrade, especially considering other companies stopped using such low resolution screens several years ago, but they still haven't done so after 15 years so maybe they never will.
I doubt they'll add a warm frontlight to the entry-level model because then it would infringe on the features of the new Paperwhite, and it most certainly won't get wireless charging or an auto-adjusting frontlight like the Paperwhite Signature Edition has.
Knowing Amazon, they'll probably just add a USB-C port and make the frontlight 10% brighter or some nonsense and then call it the "All-New Kindle". Maybe it'll finally get Dark Mode like the other models, but I wouldn't expect much else.
The Kindle Oasis is also due for an upgrade, especially now that the new Kindle Paperwhite has some upgrades that it lacks. In fact it's kind of surprising Amazon hasn't at least dropped the price of the Oasis now that the much cheaper Paperwhite has some better features than it. I like the page buttons on the Oasis but even I would be hard-pressed to buy it over the new Paperwhite now if I had to chose just one.
The current Kindle Oasis was released in July of 2019 so it's getting close to 3 years old as well. But all Amazon did was add a warm frontlight to it so the overall design actually goes back to October 2017. After 5 years you would think a complete redesign would be in order.
The biggest complaint against the Kindle Oasis has always been its sub-par battery life. The new Paperwhite's battery lasts at least twice as long so I would definitely expect some improvements in that area.
Now that the Paperwhite has a 6.8-inch E Ink screen, it makes you wonder if the next Oasis will have something larger than a 7-inch screen. Resolution is unlikely to go past 300 ppi since that's the highest E Ink offers, but they could improve contrast and the refresh rate of the screen.
At this point I'm not sure Amazon is even going to release an upgraded Kindle Oasis model. It's clearly the least popular model in terms of overall sales. The Paperwhite is the most popular by far, and they sell a lot more entry-level Kindles simply because they are so cheap. Amazon clearly doesn't have as much interest in developing Kindle ereaders as they used to, so I could see the Oasis eventually getting phased out like they did with the much-loved Kindle Voyage. In fact the Voyage was so well-liked that I think Amazon would do better releasing a newer version of it than a new Oasis.
I do think at least one new Kindle will get released in 2022, but at the end of the day nobody outside of Amazon really knows when new Kindles are going to get released or what changes are going to be made so we just have to sit back and hope for the best.