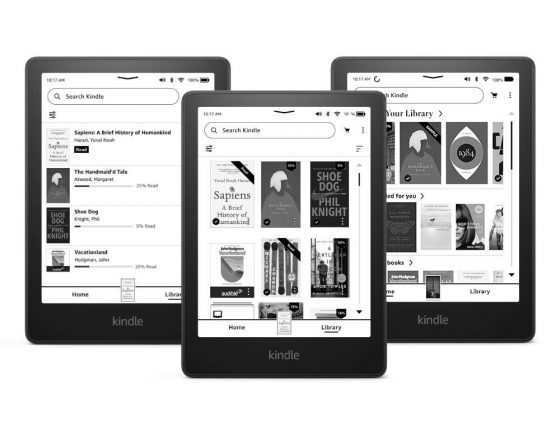 Amazon is rolling out another software update for Kindle ereaders, but so far it doesn't really seem to change much.
The new software version is 5.14.3. It's available for all Kindles going back to the Kindle Paperwhite 3 from 2015.
The release notes include all the changes from the last update when they changed the homescreen and library layout to be more like the Kindle apps for Android and iOS so it's hard to tell exactly what has changed with this update. I thought maybe they'd at least add the option to use List View with the new Collections layout, but of course they did not.
In fact everything looks the same as it did with the 5.14.2 update. If they made any significant changes they haven't activated them yet.
The way Kindle updates work is you can wait for the update to automatically download and install when connected to WiFi (usually while charging), but that can sometimes take a few months. If you want the update now you can head over to the Kindle Software Updates Page at Amazon and download the file to manually install on your Kindle (just put it in the root directory of your Kindle and hit the update button from the settings menu).
If you want to jailbreak your Kindle to go back to the old UI, make sure to turn on airplane mode now so your Kindle doesn't update to the new software, which may close the jailbreak loophole.
Here's the full release notes:
Version 5.14.3 – March 2022

Here's what's new:

New Grid and List Views: We've refreshed your Library views and added more details into List view. You can now see cover art, more of your book title, and updated reading progress.

Filter and Sort menus: Filter and sort menus provide more control. In the sort menu, you can now sort by publication date as well as toggle each sort field between ascending and descending. You will also find view modes here to access your Collections.

Scroll Bar Navigation: With a new scroll bar in Library, you can drag to scan, tap anywhere to jump around, or hold for a continuous scroll.

Collections View: You can now see all the cloud collections in your library and add them to favorites to show in Grid and List views. Change the view settings under advanced options for Home and Library in the settings menu.

Discover books card: Find your next read by filtering books by genre and category using the Discover Books card.

Recently Read Books Access: On Home you can now access up to 20 of your recently read books.

Quick View: You can now read details about a book in a quick view without leaving the page you are on. Additional actions are available from the three-dot menu on the top right corner of the quick view.

Very Low Battery Screen: The UI image to indicate when the Kindle battery is very low has been updated to improve messaging clarity.

Performance improvements, bug fixes, and other general enhancements.