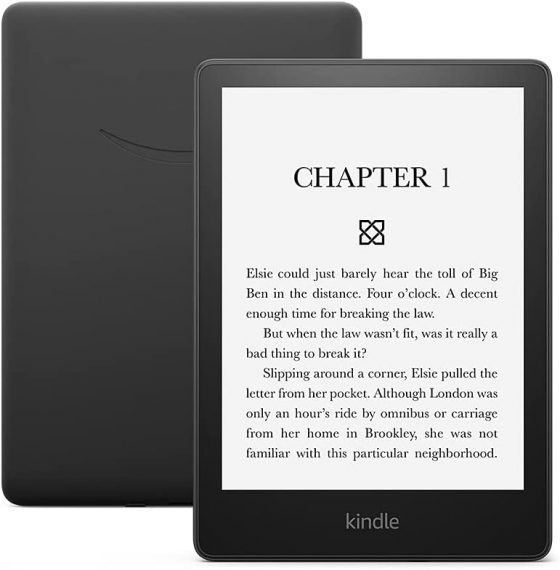 Some people care more than others about overall battery life on dedicated ereaders, and people often ask which ereader has the best battery life.
If you're one of those people that puts a premium on how long the battery can last between charges, the 6.8-inch Kindle Paperwhite seems to have the best battery life of any ereader on the current market.
I can't believe how infrequently the new Paperwhite needs to be charged. The wireless charging dock for the Signature Edition model is one of the least used accessories I've ever bought for an ereader—it's more useful as a stand than a charger.
E Ink screens only use power when changing the screen so they can get a lot better battery life than devices with LCD screens that are always sucking power whenever they're turned on.
The Kobo Clara HD and Kobo Libra 2 both have really good battery life as well, although I'm not sure which is "best". They do seem to use more power when asleep than Kindles, however, but Kobos can be completely turned off, unlike Kindles.
A couple of models with the poorest battery life are the Kobo Sage and the Kindle Oasis, which is weird since both models are more expensive than ereaders with really good battery life.
Every time I try to use the Kobo Sage, I'm surprised by how bad the battery life is. Every time I pick it up the battery is lower than when I put it down, and it can easily drop by 10% or more in less than an hour of reading. A lot of people have complained about battery life on the Kindle Oasis as well, but to me it's not quite as bad as the Sage, especially when using lower frontlight levels.
Devices that run Android tend to have shorter battery life, but then again those devices are often used more like tablets than ereaders so that's to be expected to some extent.
From your experience, which ereader do you think has the best battery life? Should companies put more emphasis on longer battery life, or should they try to make ereaders as light and thin as possible?