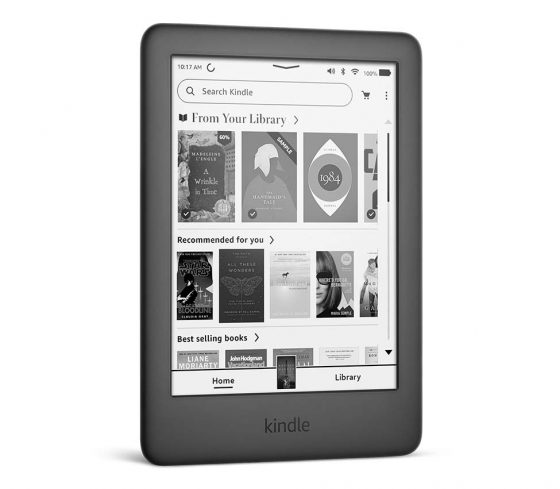 If you're looking for a low-cost electronic reading device, Amazon has the base Kindle on sale again for $59.99 with free shipping, and the kids version of the same Kindle is also on sale for $64.99.
There's also the Kindle Essentials Bundle that comes with a cover and a power adapter for $85.97. Here are the links to the deals at Amazon:
Kindle – $59.99 ($30 off)
Kids Kindle – $64.99 ($45 off)
Kindle Essentials Bundle – $85.97 ($49 off)
The kids Kindle is also eligible for a "Buy 2, save $20 promo" when using code "2PACK" during checkout.
The base Kindle is available in black or white, with ads or without. The ad-free version costs $74.99. It normally costs $20 more to get a Kindle without lockscreen ads so that's $5 less than usual. But you'd be better off buying the Kids Kindle instead for $64.99 (it doesn't have ads either and it comes with a free case and a better warranty, not to mention a free 1-year subscription to Amazon Kids+).
The older Kindle Paperwhite 3 is still also available from Woot for $34.99 refurbished. It has a better screen and a larger battery than the base Kindle that's on sale so it's still worth considering as well.
The base Kindle, what Amazon calls the 10th generation Kindle, has a 6-inch E Ink screen with 167 ppi. It has 8GB of storage, Wi-Fi, Bluetooth to stream audiobooks and use VoiceView, and it has the older micro USB port.
It does not have Dark Mode or a warm frontlight like the other current Kindle models, but it does have a regular cool-colored frontlight.
It's surprisingly they don't have any of the other Kindle models on sale this time. The 10th gen Kindle is a good device for the price but it's over three years old now and it's about as basic as it gets. I guess they're saving the good deals for Prime Day next month.