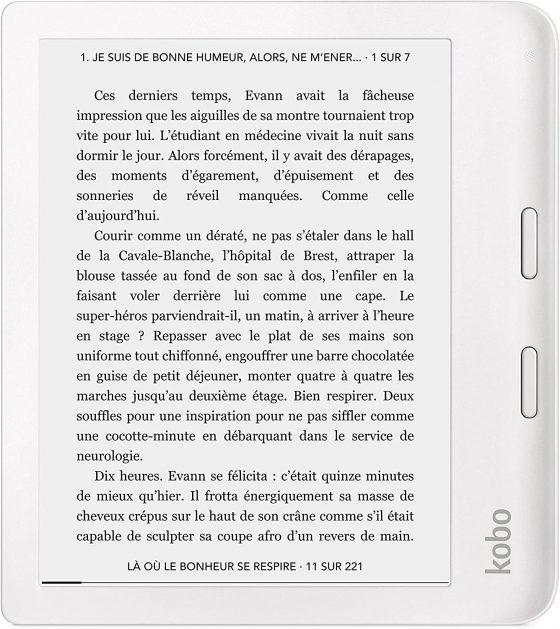 Kobo has started rolling out a new software update for their lineup of Kobo ereaders, and the update adds a couple of new features related to adjusting font sizes and reading PDFs.
The new software version is 4.33.19759. Kobo's updates generally roll out in phases so it might be a while before you receive the update while syncing, but you can always update manually too.
This update adds a new way to adjust font sizes on the fly by using a pinch gesture. Kindles have had this feature for a long time so it's good to see Kobo adding it as well.
However, Kobo's implementation could still use some refinement. When pinching it pops up a small circular window with a preview of the font size, but it's kind of hard to tell from a little tiny window, and sometimes the window goes to a blank part of the page and shows nothing, and then it always leaves an ugly afterimage after adjusting. Kobo should add numbers so you know what font size you're getting instead of just guessing—that's one thing that's always bugged me about the font size settings on Kobos.
The new pinch adjustment feature can be turned on and off in reading settings so you can choose if you want to use it or not.
Another thing that Kobo added with this update is the ability to lock the zoom level with PDFs, so now when you turn pages it will maintain the zoom level and position instead of resetting to the top left with every page like it used to. This is a good way to crop margins and makes PDFs more readable on smaller screens. It's nice to see Kobo finally add this, and it seems to work pretty well with the PDF I tested.
Here's the full list of release notes for the 4.33.19759 update:
Pinch to change font size in eBooks

You can now change the font size in your eBooks by using the pinch gesture.
As you pinch, a circular preview window will appear to allow you to see the font size as you adjust it.
Once you are comfortable with the size you can release your fingers to update the font size on the page.
You can also toggle this feature on or off in Reading Settings.

Zoom lock for PDF

Turning pages in PDFs will now automatically maintain the current zoom level and position from the previous page.
This can be useful if you have zoomed in slightly to remove excess margins and increase the legibility of the content.

General Improvements

Show "Add more dictionaries" button under the language dropdown menu in dictionary lookup
Bug Fixes
Improved Stability