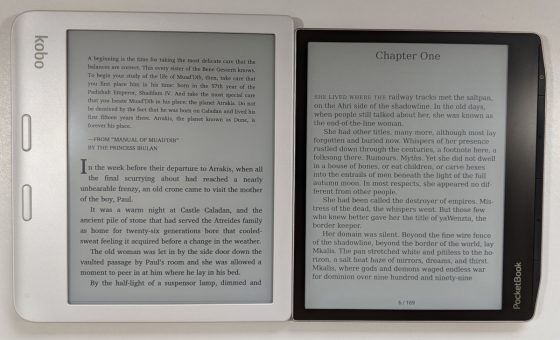 The Pocketbook Era is a new ebook reader that was just released this month (July 2022), and it has an asymmetrical design with a flush screen, and it supposedly uses E Ink's latest Carta 1200 display but you would never know it by looking at it.
The first thing that stood out about the Pocketbook Era when I sat down to read on it for the first time was the text has a faded, washed out appearance to it, especially compared to other newer devices that use the same Carta 1200 screen like the Kobo Libra 2 and Kindle Paperwhite 5.
The text looks much darker on the Kindle and Kobo. It's not even close.
It's exacerbated by the fact that Pocketbook's software doesn't offer any kind of boldness slider to customize font thickness; there's just a regular setting, an italic setting, and a bold setting, and to me the bold settings is just way too thick and it looks rather fuzzy when applied.
But even with the bold setting turned off on the Kindle Paperwhite, the text is still a lot darker than it is on the Pocketbook when using the regular setting. I don't know what the deal is, but something about the flush front layer on the Pocketbook Era is seriously degrading the contrast of the Carta 1200 screen. So much so that I personally have zero interest in reading on the Era after getting used to the superior contrast on the other two screens.
If the Pocketbook Era was your first time seeing an E Ink ereader in person, you might think that's it's totally fine and easily readable—and the screen is easy to read and the text looks good at first glance—but if you're coming from a different E Ink ereader it's really obvious the text doesn't look nearly as dark.
It's really disappointing how these companies keep putting more focus on design changes to make their devices thinner and more trendy, instead of making the screen look as good as it possibly can. That should be the most important thing considering you're staring at the screen for hours at a time.
I uploaded a video to show the difference between the screen on the Pocketbook Era and the Kindle Paperwhite 5 and Kobo Libra 2. The camera never quite shows the difference as well as I'd like it too, especially when bright lights are pointed at the screens from above, but you can still get an idea of the contrast difference. It's more noticeable toward the end of the video when using natural lighting, and it's really obvious in person. Also, the frontlights are turned off so it's only a comparison between the screens themselves.
Pocketbook Era Screen Review Video