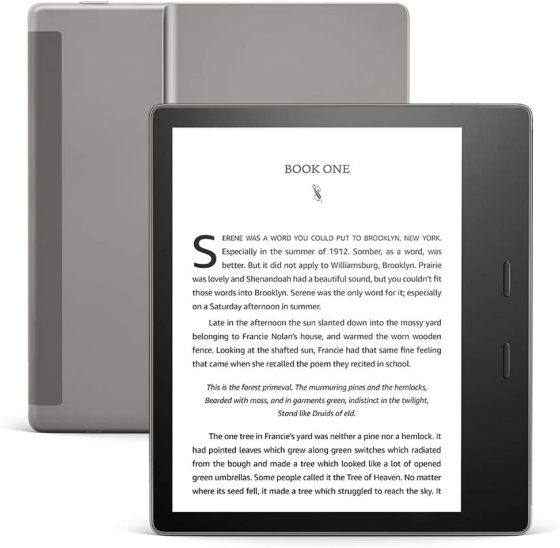 For the past six years the Kindle Oasis has been Amazon's flagship, most-expensive Kindle, the one with the best build quality and (arguably) the nicest design.
The first generation Kindle Oasis had a 6-inch E Ink screen, but then in 2017 the Kindle Oasis 2 got released and one of the main changes was it featured a larger 7-inch screen—and the Kindle Oasis 3 still uses that same screen.
Up until the Kindle Oasis 2 was released, Amazon had sold nothing but 6-inch Kindles for many years after the 9.7-inch Kindle DX was discontinued, which was released in 2009 and 2010 so that's going way back.
Last year Amazon released the fifth version of the Kindle Paperwhite, and it has a 6.8-inch screen; it was the first Paperwhite to have something other than a 6-inch screen.
So where does that leave the next premium Kindle? Amazon can't charge more for a smaller Kindle, right? So whatever is going to replace the current Kindle Oasis is likely to have a screen larger than 6-inches.
It would seem the days of the premium 6-inch Kindle are gone. The Kindle Voyage had a good run, and some still consider it the best Kindle ever released (myself included, because the screen is still better than any Kindle released since). The Kindle Oasis 1 wasn't as popular, but it wasn't on the market for very long so that didn't help its cause any, that and being dependent on a special charging cover.
It seems like most companies are turning 6-inch ereaders into low-cost budget models these days. The only 6-inch Kindle that Amazon sells currently is the entry-level Kindle model, and it has a lower resolution screen than almost every ereader ever released (except the Kindle DX).
It would be great to see a nice premium 6-inch Kindle with a 300 ppi screen available again, kind of like a Kindle Voyage 2. But that almost certainly isn't going to happen. The smaller size of 6-inch ereaders is an advantage when it comes to portability, but it seems most people favor larger screens these days. I like larger screens too, but the Kindle Oasis is just too wide to fit in my back pocket like the Kindle Voyage, so it always just sits at home.
What do you think? Would you consider buying a premium 6-inch Kindle? Or do you prefer a Kindle with a larger screen?