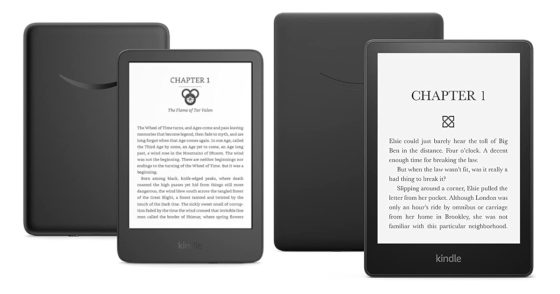 Now that Amazon has started taking orders for a new base Kindle, there's some confusion about how it compares to the current Kindle Paperwhite that Amazon released last year, so here's a list of the differences between the two models.
Amazon refers to both Kindles as 11th generation models. The Kindle Paperwhite was released in October 2021, and it's the fifth Paperwhite model that Amazon has released. The new base Kindle will be released in October 2022, and it's the ninth "Kindle" that Amazon has released.
A few people automatically assume the new Kindle is an upgrade over the Paperwhite just because it's newer, but that is not the case at all. The Paperwhite is an upgraded version of the new Kindle even though it was released a year ago. The new Kindle is more like a Paperwhite 3 from 2015, but with more storage space and a smaller design.
The Paperwhite has more features and a larger screen, and that's reflected in the higher price. The Paperwhite is also available in two versions. The Signature Edition adds some extra features that aren't found on the base Kindle Paperwhite and it costs $50 more.
One odd thing about the new Kindle is it comes with 16GB of storage space, whereas the base Kindle Paperwhite only come with 8GB of storage, but now Amazon is offering a 16GB version for an extra $10. The Signature Edition has 32GB of storage.
Here's an outline of the main differences between the new Kindle for 2022 and the Kindle Paperwhite from 2021:
New Kindle
6″ E Ink screen with 300 ppi (indented screen)
Frontlight (one color only) with 4 LEDs
16GB of storage
6 weeks of battery life
Available in black or blue (denim) colors
Size: 157.8 x 108.6 x 8.0 mm
Weight: 158 grams
Price: starts at $99 at Amazon
Kindle Paperwhite 5
6.8″ E Ink screen with 300 ppi (flush screen)
Frontlight with adjustable color temperature, 17 LEDs
8GB/16GB of storage
10 weeks of battery life
Available in black only
Waterproof
Size: 174.2 x 124.6 x 8.1 mm
Weight: 205 grams
Price: starts at $139 at Amazon
Kindle Paperwhite Signature Edition
Same as Kindle Paperwhite above, but the Signature Edition adds the following upgrades:
32GB of storage space
Qi wireless charging
Auto-brightness sensor
No Lockscreen ads
Price: $189 at Amazon
Conclusion
Both the new Kindle and Kindle Paperwhite have USB-C ports and both support dual-band WiFi, and they also have Bluetooth for streaming audiobooks. Most if not all the software features are likely the same now that the base Kindle supports Dark Mode, so all the key differences are hardware related.
There a few details about the new Kindle that we still don't know yet. We don't know if it has the same processor and RAM as the Paperwhite, so there might be a speed difference if not. We also don't know if it has a regular E Ink Carta screen or a newer Carta 1200 screen with improved contrast like the Paperwhite has (Amazon does not reveal these type of details).
I'll post a detailed comparison and a video review between the two devices after the new Kindle gets released on October 12th so check back then for more details.