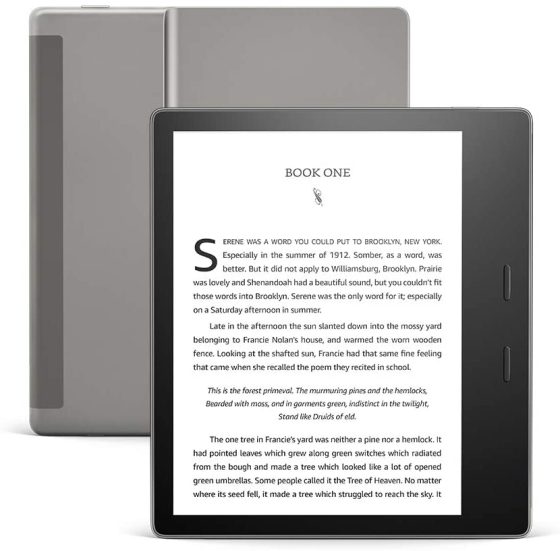 Last week Amazon announced the upcoming release of a new basic Kindle on October 12th, and some people are still eagerly awaiting an announcement about a new upgraded Kindle Oasis or other premium Kindle.
At this point I would say that is very unlikely to happen, and it's looking more likely that the Kindle Oasis line will be discontinued altogether after they sell off the remaining stock. How can they keep selling an outdated Kindle for a premium price while all the other Kindles have been upgraded?
First off, Amazon has never released a new Kindle and then proceeded to release a second new Kindle a month later. It just doesn't make sense to do it that way, not unless they're having some problem procuring parts and had to push back the release date, but they haven't been having any problems keeping the current lineup in stock so that doesn't really add up either.
In years past, Amazon has released a new Kindle a few months after releasing a new model, but with the end of the year quickly approaching the timeline doesn't really accommodate a second release this year.
A new Kindle Oasis would have to be announced within the next few weeks if they're going to do pre-orders for a month leading up to release like they usually do and still have time to get it out the door before the busy holiday shopping season starts. Amazon isn't stupid; they aren't going to release a new Kindle in the middle of December like Barnes and Noble did last year with the latest Nook.
Going back ten years, the latest Amazon has released a new Kindle is November 7th, the Kindle Paperwhite 4, and it was announced on October 16th, 2018. It's very unlikely a new Kindle would be announced after that date. The Kindle Oasis 2 was announced on October 11th, 2017.
But again, why would they announce a new entry-level Kindle and then wait a month to announce a new Kindle Oasis?
The current Kindle Oasis was released in July of 2019, and it was pretty much a carbon copy of the Oasis 2—all they did was add a warm frontlight and otherwise kept the design exactly the same, so really the current Oasis is even older than it would seem with everything else about it dating back to 2017.
I get that Amazon sells way more entry-level Kindles and Kindle Paperwhites so it's understandable they get priority over premium Kindles, but there comes a point where you have to read between the lines, and it's not looking good for the Oasis. Unless a new model is announced within the next few weeks, I wouldn't be surprised to see Amazon discontinue the Oasis line altogether.
I think the new "premium" Kindle might just be the Kindle Paperwhite Signature Edition moving forward. It has several upgrades over the Oasis, including wireless charging, USB-C, much longer battery life, and a better screen with less ghosting. The only thing it doesn't have is page buttons, but would it really be surprising to see Amazon do away with page buttons entirely?
Looking across the range of Amazon-branded devices it's not their style to offer premium level devices. Amazon would rather release cheaper devices and sell a lot of them instead of selling a few higher-end devices. For them it all comes down to selling more content so the more cheap devices they can get out there into people's hands the better it is for their business model.
I hate to say it but I think the days of the premium higher-tier Kindle just might be coming to an end. Next month will be 5 years since the last premium Kindle redesign, and with nothing new on the horizon it's not looking good for the Kindle Oasis especially.