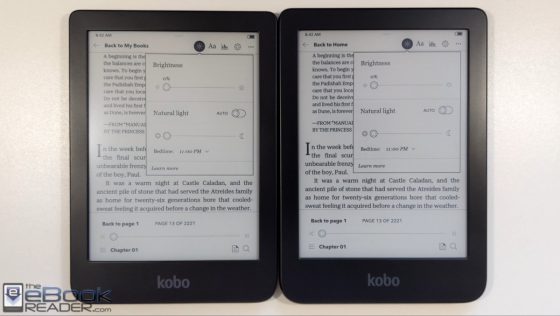 Kobo released a new 6-inch ebook reader last month called the Kobo Clara 2E. It's an upgraded version of the Kobo Clara HD that was released in 2018. Here's a quick comparison review outlining the differences between the two.
I have the same software installed on both devices, version 4.34.20097, and both are using the new Rakuten Serif font in the video to compare the screens.
Both have the same 1GHz processor, and overall response times for navigating menus, opening books, turning pages is identical. There is no speed improvement with the Clara 2E.
The frontlights are pretty much the same as well. The lights have slightly different color tones on my Clara 2E, but that's common among devices of the same generation so that's not unexpected. I can't say one is better than the other, just slightly different.
Kobo Clara 2E Upgrades
16GB of storage instead of 8GB
Added Bluetooth for audiobook support
Waterproof
Carta 1200 E Ink screen (slightly darker blacks)
Dual-band WiFi support added
USB-C port
Dark Mode officially supported
The overall dimensions are slightly different, just enough to make it so covers aren't interchangeable: Kobo Clara HD measurements: 110 x 159.6 x 8.35 mm; Kobo Clara 2E measurements: 112.05 x 159.02 x 8.66 mm.
The Clara 2E has a newer Carta 1200 screen, so blacks are a bit darker than the Clara HD, and it helps make the text stand out a little more. The difference is very subtle but it is noticeable under certain lighting conditions.
Conclusion
It's interesting how similar the Clara 2E is to the Clara HD. Looking at them from the front the two are virtually indistinguishable from each other. The Clara 2E has a blue back so it's easy to tell it from behind, and they moved the power button from the bottom to the back, which helps avoid accidentally hitting the power button.
Most of the changes are very subtle, which is kind of surprising considering the Clara HD was released nearly four and a half years ago now. I guess Kobo really likes that design and didn't feel like much needed changing. The upgrades are nice but when it comes to reading ebooks both models pretty much perform identically.
Comparison Video