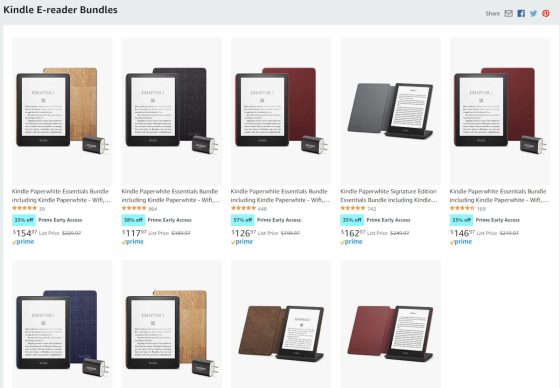 Amazon came up with a new sales event this year called the "Prime Early Access Sale" for October 11th and 12th. It's kind of like Prime Day 2.0 but they have a bunch of things on sale that don't require a Prime membership, including Kindle ereaders and Kindle covers.
They did add some exclusive Kindle deals for Prime members today in the form of Kindle Paperwhite bundle packages.
I posted about the Kindle deals last week, and the prices remain the same during this sales event, but they did add a sweetener to the sale, and it doesn't appear to require a Prime membership.
Now in addition to the sale prices, you can get an additional $20 off when buying two qualifying Kindles.
The deals are limited to the Kindle Paperwhite and Kindle Oasis; the new basic Kindle and new Kindle Scribe obviously aren't on sale yet, but with the extra $20 off these are the best Kindle deals of the year so far.
You can also get an additional 10% back when buying a Kindle Paperwhite or Kindle Oasis using an Amazon Prime credit card.
As noted a couple days a go, Kindle covers are also on sale for the Paperwhite and Oasis, and some of the Paperwhite covers can be had for just a few bucks for open box.
Update: There's also an offer available for select accounts where you can get a $5 ebook credit when spending $15 on ebooks. The deal ends October 16th. Check this Kindle Rewards page at Amazon to see if you qualify.
Here's the list of Kindle deals; the sale ends tomorrow, October 12th:
Kindle Sales (Prime Not Required)
Kindle Paperwhite 8GB – $99.99 ($40 off)
Kindle Paperwhite 16GB – $104.99 ($45 off)
Kindle Paperwhite Kids 8GB – $109.99 ($50 off)
Kindle Paperwhite Kids 16GB – $114.99 ($55 off)
Kindle Paperwhite Signature Edition – $134.99 ($55 off)
Kindle Oasis 8GB – $179.99 ($70 off)
Kindle Oasis 32GB – $199.99 ($80 off)
Kindle Oasis 32GB Cellular – $269.99 ($80 off)
Kindle Covers on Sale (Prime Not Required)
Kindle Paperwhite Fabric Cover – $22.99 (23% off) – open box starting at $2.75
Kindle Paperwhite Leather Cover – $31.99 (20% off) – open box starting at $4.22
Kindle Paperwhite Cork Cover – $39.99 (20% off) – open box starting at $12.53
Kindle Oasis Water-Safe Fabric Cover – $29.99 (25% off)
Kindle Oasis Leather Cover – $36.99 (26% off)
Kindle Bundles (Prime Required)
Kindle Paperwhite Essentials Bundle with Fabric Cover – $117.97 ($72 off)
Kindle Paperwhite Essentials Bundle with Leather Cover – $126.97 ($73 off)
Kindle Paperwhite Essentials Bundle with Cork Cover – $134.97 ($75 off)
Kindle Paperwhite Essentials Bundle with Fabric Cover, No Ads – $137.97 ($72 off)
Kindle Paperwhite Essentials Bundle with Leather Cover, No Ads – $146.97 ($73 off)
Kindle Paperwhite Essentials Bundle with Cork Cover, No Ads – $154.97 ($75 off)
Kindle Paperwhite Signature Edition Essentials Bundle with Fabric Cover, No Ads – $162.97 ($87 off)
Kindle Paperwhite Signature Edition Essentials Bundle with Leather Cover, No Ads – $171.97 ($88 off)
Kindle Paperwhite Signature Edition Essentials Bundle with Cork Cover, No Ads – $179.97 ($90 off)