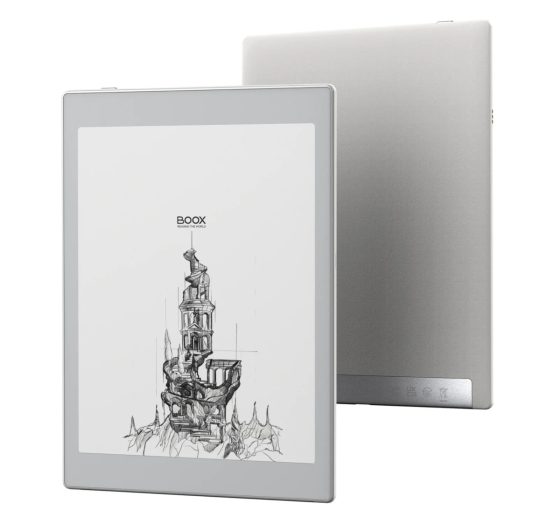 This past week Onyx announced the upcoming release of three new devices for the international market, the 10.3-inch Tab Ultra, the 7-inch Leaf 2, which comes in two versions, and the 7.8-inch Nova Air 2.
The Tab Ultra is a new product and the Leaf 2 comes with some notable upgrades, including the addition of page buttons and a memory card slot, but Onyx is back to their old tricks of changing a couple minor details with the Nova Air 2 and calling it a new model.
Basically all they did was change the processor and updated the underlaying Android version to Android 11, neither of which make a lick of difference when it comes to an E Ink device. The CPU is probably 99% the same as the previous version, and with Onyx's heavily-customized OS the newer Android version changes virtually nothing.
The one change that might be worthwhile is they say the screen is clearer now, but they're still using the same 300 ppi E Ink Carta HD screen as the last model. They don't mention what the change was, but with the Tab Ultra they say they reduced the touch layer by 50% to make the screen clearer, so that's probably what they did with the Nova Air 2 as well.
They should've upgraded to the newer Carta 1200 screen with better contrast like the Kobo Libra 2, but I guess they're saving that for the Nova Air 3 that will probably get released in 6 months.
Outside of that, the Nova Air 2 appears to be exactly the same as the original Nova Air. The specs are identical and so is the design.
The Nova Air 2 has an octa-core CPU with 3GB of RAM and 32GB of storage space, with dual-band WiFi support and Bluetooth. It has a USB-C port, dual speakers, a microphone, and a 2,000mAh battery. The device weighs 235 grams and the dimensions are 194 x 136.5 x 6.3 mm.
The Nova Air 2 has a 7.8-inch E Ink Carta HD screen with 300 ppi and there's a frontlight with adjustable color temperature. A stylus is included as well, with support for 4098 levels of pressure sensitivity.
The Nova Air 2 is available to pre-order from Onyx's website for $339.99, but I would recommend ordering it from Onyx's Amazon store instead when it becomes available. It's expected to ship the first week of November.
The Nova Air 2 is shown toward the end of Onyx's new product launch video.
BOOX Product Launch Event