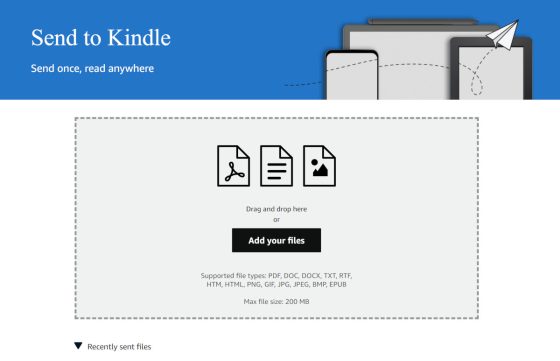 Amazon has added a new send-to-Kindle page to their website that lets you send personal documents, including ebooks in EPUB format, to Kindle ereaders and Kindle apps.
You can simply drag and drop the files onto the page to send to your Kindle, and you have the option to add them to your Kindle library for syncing and sharing, or you can choose to send them to a specific device or app if you don't want them added to your Kindle account.
It's not very obvious, but if you hit the drop-down arrow next to the added file you can change the title and add an author's name for each file.
Below the window there's also a recently sent files list where you can view the progress of each upload.
Here's the full list of supported file types:
PDF
DOC
DOCX
TXT
RTF
HTM
HTML
PNG
GIF
JPG
JPEG
BMP
EPUB
The maximum file size is limited to 200 MB.
You can also send EPUB files by email and with the Kindle for iOS and Android apps. The desktop apps still say EPUB is unsupported but they're supposed to be adding EPUB support by the end of the year.
Cover images now show up for EPUB files sent to Kindles with the lastest 5.15.1 software update. If you notice formatting issues with sent EPUBs there is an easy way to fix that. See here: How to Fix Formatting Issues on ePubs Sent to Kindles.