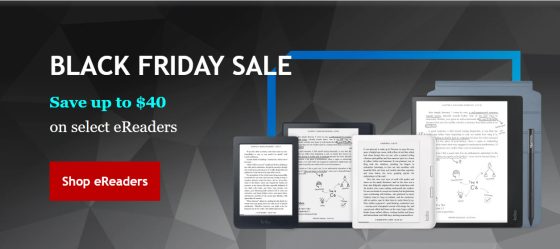 If you want to get a Kobo ereader this holiday season, now is the time to do it. Kobo has four different models on sale for Black Friday, and if history is any indication, they'll remain on sale through Cyber Monday.
Oddly enough, the new Kobo Clara 2E isn't on sale and neither is the previous generation Clara HD, but Kobo's other four models are marked down by $20-$40 each.
The sale prices are available from Kobo's website and from their official retail partners, which includes Walmart and Amazon (sold by BlueProton).
The 10.3-inch Kobo Elipsa is on sale for $359—that's $40 off the regular price and it comes with a heavy duty cover and a stylus pen. The Elipsa is an ereader and notebook in one. It has better ereading features than most other eNotes, but the notetaking aspects are more basic than other devices. See my Kobo Elipsa review for more details.
The 8-inch Kobo Sage is on sale as well, priced at $229, which is $30 off the regular price. It's Kobo's premium ereader. It has 32GB of storage, a frontlight with temperature control, it's waterproof, and it also supports notetaking like the larger Elipsa but it does not come with a stylus.
The 7-inch Kobo Libra 2 is on sale for $159. That's only $20 off but it's still a really nice ereader for the price. It has 32GB of storage, a USB-C port, it's waterproof, the screen is great, and it has the most even frontlight of any Kobo I've ever seen. See my Kobo Libra 2 review for a closer look.
Kobo's lower-end model, the Kobo Nia, is also $20 off at $79. I would normally recommend spending a few bucks more on the superior Clara HD, but since neither Clara model is on sale this time the price difference is greater than usual.
Unfortunately Kobo's Black Friday sales aren't anywhere close to as good as Amazon's Black Friday sales on Kindle ereaders where they're $45-$95 off, and Kobo doesn't discount their covers like Amazon does, but that's typical of Kobo. They just do regular sales like any other time of year of $20-$40 off, but that's better than nothing like they used to do.
Kobo Sales at Amazon
Kobo Sales at Walmart