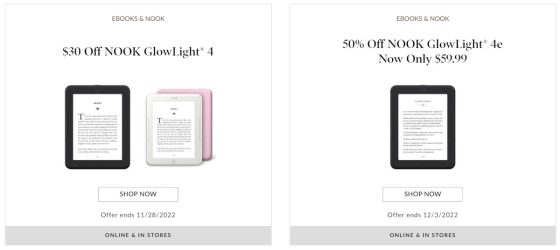 Barnes and Noble has both the Nook Glowlight 4 and the Nook Glowlight 4e on sale for Black Friday and Cyber Monday weekend.
The price of the Nook Glowlight 4e is surprisingly low for an ereader at only $59.99. That's 50% off the regular price of $119.99, and it's by far the lowest price for a new ereader this holiday shopping season (it beats the Kobo Nia by $20 and the new Kindle by $25).
The deal is available both online and at Barnes and Noble retail stores, and the offer ends on December 3rd.
It's been a really log time since Barnes and Noble has sold a Nook ereader for that cheap. The price is so low that it makes it hard to justify spending twice as much on the Nook Glowlight 4, which is also on sale.
The Nook Glowlight 4 is marked down by $30 to $119.99. The sale ends on November 28th.
Both Nooks have 6-inch E Ink screens, but the Glowlight 4 has a 300 ppi screen and a frontlight with adjustable color temperature, whereas the 4e has a 212 ppi screen and a frontlight without temperature control.
The Glowlight 4 also has more storage space with 32GB and the 4e has 8GB. Both devices have USB-C connectors and both have physical page-turn buttons unlike most other ereaders in that price range.
Nooks support ebooks in EPUB and PDF formarts, including ebooks with Adobe DRM. They aren't the best option for sideloading books but they can be used for that purpose to some extent.