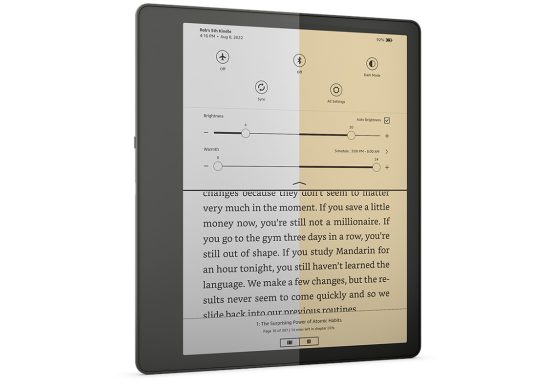 One thing I've seen mentioned online several times regarding the Kindle Scribe is people complaining about a small gap that surrounds the edge of the screen.
Some people see it as a manufacturing defect and try to exchange their Kindle Scribe for one without the gap, but I'm starting to think they all have a gap between the edge of the screen and the frame.
I don't really see it as a big deal, but I mentioned the gap in my review of the Kindle Scribe as my main complaint about the design.
But the more I think about it, the more I think maybe it was an intentional design decision. E Ink screens are known for being more fragile than other types of screens because they have a very thin glass back layer that the E Ink screen is laminated to, and larger screens are more fragile than smaller screens.
I think the gap might be there to keep energy from being transferred to the screen in case the Kindle Scribe is dropped. The outer casing is made of metal and it's very solid and sturdy. The gap effectively keeps the screen from touching the outer casing so that will most likely decrease the likelihood of impacts being transferred to the screen.
When companies first started selling these 10-inch eNotes they all had plastic backplanes for increased durability, but for some reason the flexible E Ink screens are more expensive than traditional glass-backed screens so they started making regular glass screens again, and now that's pretty much what they all use.
Whether the gap is an intentional design or not, it's not something you see with other 10-inch eNotes. It would've looked better and helped keep dust and other crud out if they would've filled the gap with a strip of rubber or something else. I can see why people might think it's a defect.
Does your Kindle Scribe have a gap around the edge of the screen?