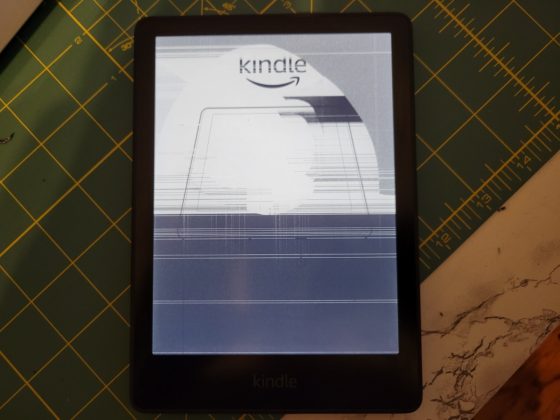 Some of you with Kindles and Kobo ereaders and other E Ink devices may be surprised to hear that E Ink screens are very fragile and easy to break, and cracked screens aren't covered by most warranties.
It's fairly common to see people posting pictures of ereaders with cracked screens online. The explanation usually includes something about the device suddenly not working for no apparent reason, often after being in a bag or backpack with other items.
E Ink screens are prone to break when impacted or when pressure is applied to them because they have a very thin backplane that's made of glass—it's usually not the front of the screen that cracks like with phones and tablets, and unlike those types of devices, E Ink screens will not continue to work properly after they develop a crack.
People often ask if there's a way to fix the screen, but once the substrate is cracked there is no fixing it. It's possible to replace the screen, but finding the right display and installing it yourself is most likely going to be more trouble than it's worth. There are minor differences between different generations of E Ink screens that make it hard to find the exact one you need.
In most cases you're probably going to be able to find a nice refurbished or used ereader for less than the cost of a replacement screen. It's rare to hear someone successfully replacing an E Ink screen.
It is possible for E Ink to make screens that are virtually uncrackable using plastic substrates. Some older devices like the Kobo Forma and Onyx Max models have flexible plastic-based E Ink screens that don't crack, but apparently the cost is higher or manufactures just don't care because nobody is using plastic-based screens. They're much lighter and practically unbreakable but unfortunately their popularity is waning instead of increasing.
Somehow I've managed to go over thirteen years without ever breaking an E Ink screen, and I usually don't keep ereaders in cases. I once dropped my Sony PRS-350 on concrete from about 5 feet and I thought for sure it was broken by it still works to this day. I've sat on my Kindle Voyage many times when I keep it in my back pocket but it's still fine too.
What about you? Have you ever broken an E Ink screen before?
Image via Kindle Paperwhite Review at Amazon