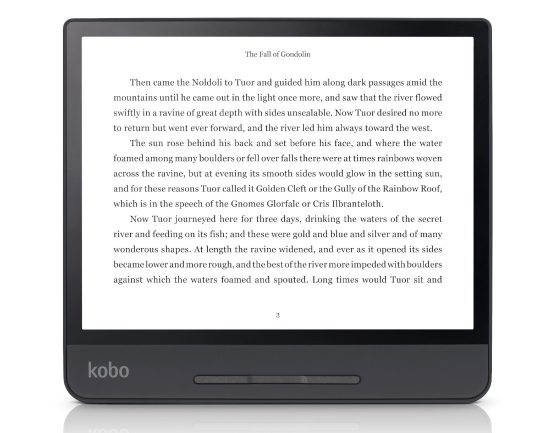 This year color E Ink has made a resurgence with the recent release of the Poke2 Color and PocketBook Color, but whatever happened to the advancement of flexible E Ink screens?
The Kobo Forma was the first and only ebook reader under 10-inches to feature a flexible E Ink Mobius screen, and it was released back in October 2018.
Mobius screens started out on larger 10.3-inch and 13.3-inch ereaders because the larger screens were easier to crack when made with a traditional glass backplane. Kobo was the first to offer an ereader with a Mobius screen on a smaller 8-inch device.
Mobius screens are superior to traditional glass-backed E Ink screens because they use flexible plastic-based backing instead of glass, so they are lighter and more durable, and it's still the same E Ink on front so there is no downside.
This Kobo Forma twist test demonstrates just how durable Mobius screens are, so why are glass backplanes still being used at all?
A flexible screen is far more useful than waterproofing, but you'll have no trouble finding waterproof ebook readers these days. I've literally never heard of anyone breaking an ebook reader by getting it wet, but a cracked screen is one of the leading causes of breakages.
It's surprisingly easy to crack an E Ink screen. Tossing an ebook reader into a bag without a cover or simply sitting on an ereader that's in your back pocket can easily break the thin glass backplane.
Once the screen is cracked the device is no longer usable and there's no fixing a cracked E Ink screen. In most cases it's more trouble and expense than it's worth to replace an E Ink screen—you're better off just buying a new ereader or something refurbished for barely more than a replacement screen sells for new.
Hopefully more ebook readers will start using flexible E Ink screens in the future. With a proper casing design they are virtually indestructible, not to mention lighter. It's surprising no other companies have used the Kobo Forma's screen yet. After Kobo released the Kobo Aura One, the first ereader with a 7.8-inch E Ink screen, several other models started coming out with 7.8-inch screens too.