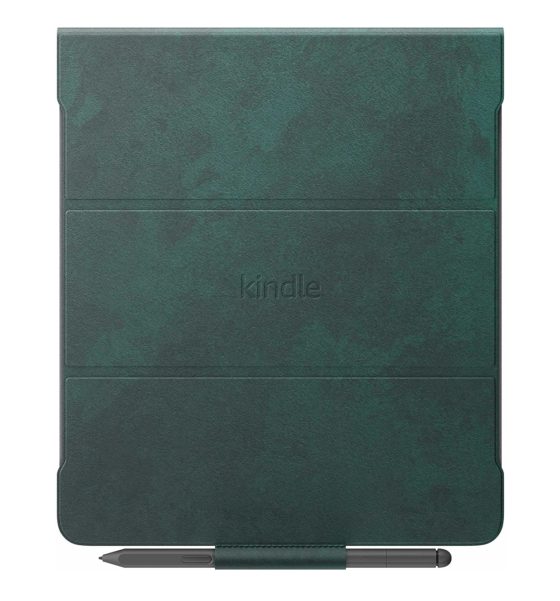 Here's an interesting twist in the Kindle Scribe saga. There have been a good share of negative reviews of Amazon's new notetaking Kindle, and the reviews are even worse when it comes to Amazon's official covers for the Kindle Scribe.
Now things have gotten bad enough for Amazon to make some changes to the product page for what was once referred to as the "premium leather cover" for the Kindle Scribe.
Interestingly, Amazon has removed the word "premium" from the title of the cover and they no longer call the material "premium leather" in the description either.
Now they are calling it the Kindle Scribe Brush Print Leather Folio Cover.
Amazon also dropped the list price from $99.99 to $89.99, and it's currently "on sale" for $79.99, which is the same price as the regular leather cover for the Kindle Scribe.
I think Amazon lowered the price and decided to no longer call it a premium leather cover because of a slew of negative reviews. Right now the overall rating sits at just 2.7-stars with 39% of reviewers giving it a 1-star review.
Compare that to the regular leather cover for the Kindle Scribe with an overall 3.6-star rating and the fabric cover with a 3.8-star rating. Functionally all three covers are identical and they share the same exact design—the material used is the only difference, so it would seem people aren't impressed with the quality of the "premium" leather, that and the fact the cover costs an arm and a leg.
I happen to have the premium leather cover (sorry, the "brush print leather cover") for the Kindle Scribe and I don't think it's really that bad. I don't love the design with the stylus loop at the bottom, but that can be said for the other versions as well. The leather material certainly isn't as nice as some other leather covers I've used, and the price is totally ridiculous, but I like the cover well enough, and the material seems to be softening up with use. I probably wouldn't buy it again at list price but I certainly don't hate it. The cork cover I got for the Kindle Paperwhite is my favorite Kindle cover, but they don't make a cork cover for the Scribe.