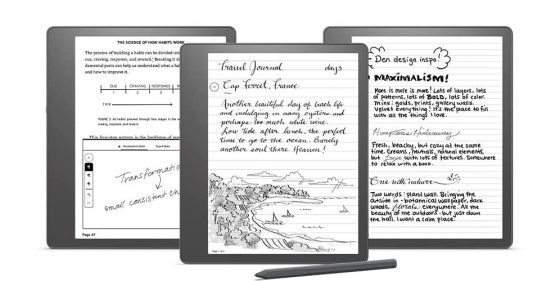 Yesterday Amazon released the first software update for the Kindle Scribe since it was released in November that added some new features.
Most of the improvements center around the notetaking experience with the addition of more writing tools and subfolders to help organize notebooks.
Amazon also states the Kindle Scribe will be getting copy and paste tools in "the coming months", along with more organization and navigations tools for notebooks, and they've been saying since the beginning they'll be adding the ability to send Microsoft Word documents to the Kindle Scribe in early 2023.
That's all fine and good but they still need to make some major improvements to how the Kindle Scribe handles PDF documents.
As noted in my Kindle Scribe PDF review, there are a number of differences in the way the Kindle Scribe handles PDFs that are loaded via USB and PDFs sent using a send-to-Kindle app or email.
In order to use the stylus to write on PDFs, you have to use Amazon's send-to-Kindle service to send PDFs to your Kindle Scribe. Amazon converts them to their print replica format and then most of the features that are available for sideloaded PDFs aren't available for sent PDFs, like the ability to darken the text, lookup words in the dictionary, or rotate the screen to landscape mode.
I get that Amazon wants to gain the favor of the notetaking crowd, especially after all the criticism the Kindle Scribe received after first getting released for its lackluster notetaking features. But I would argue the PDF reading and annotating experience is just as important as the overall notebook experience.
What's concerning is Amazon hasn't said a single thing regarding the Kindle Scribe's PDF support in their "coming soon" notices. They seem to be more interested in adding support for sending Microsoft Word documents than improving any thing to do with PDFs.
Hopefully the Kindle developers will continue to improve the PDF experience as well because that's another big hole in the Scribe's feature-set that needs to be addressed.
Until that happens, I'll keep sideloading PDFs on the Kindle Scribe to have access to all the extra features instead of sending PDFs and having obnoxiously larger margins and no contrast control. It would be nice to have all the features of sideloaded PDFs and be able to write on them as well…