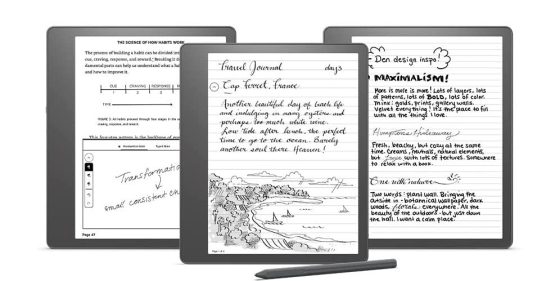 Earlier this week Amazon released the first software update for the Kindle Scribe since it was released about 3 months ago.
I put together a quick video showing the new features with the 5.16.1.2 update. A lot of people complained about how basic the Notebook features were after the Kindle Scribe was first released so naturally this update addresses some of those issues.
Overall the update isn't a major improvement, but they did add some new pen types with support for pressure sensitivity so the thickness of your writing varies depending on how hard you press down. You can also jump to specific pages now so you don't have to manually swipe through pages.
They also added more organization options with subfolders that can be added and moved to other folders and subfolders. But the whole folder thing is limited to Notebooks only; you still can't create folders for ebooks and documents, of course (that would be too logical and convenient).
Additionally, one detail I didn't mention in the video is the fact that they got rid of the silly "Kindle" logo on shared notebooks so they're more professional-looking now. That's a nice change.
Amazon also sent out a notice regarding the new update, and they say more writing tools for copying and pasting will come with another update, along with more organization options for Notebooks. And they keep saying they'll add support for sending Microsoft Word documents to the Kindle Scribe at some point (hopefully they'll improve PDF support soon too).
The software update can be downloaded from the Kindle Software Updates page at Amazon if you want to install the update on your Kindle Scribe. Or you can just wait for the update to install automatically at some point while connected to WiFi (usually while the Kindle is charging).
Kindle Scribe Update Video