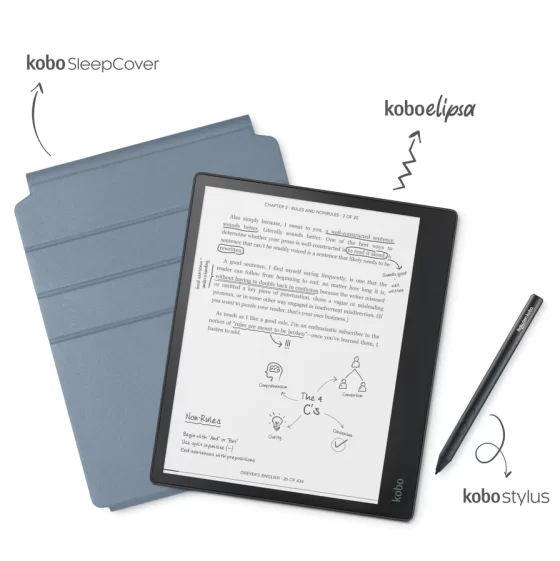 If you're looking for a large screen ereader with notetaking support, Kobo has put the Kobo Elipsa on sale for the first time since Black Friday/Cyber Monday, and the price is $10 lower than it was then.
The Kobo Elipsa is currently on sale for $349.99 from Kobo's website with free shipping. That ties the lowest price that it's sold for since it was released in June of 2021. Update: It's also available on Amazon for the same price through Kobo's US reseller, BlueProton.
It's still more expensive than the 16GB Kindle Scribe at $339, but the Kobo Elipsa has 32GB of storage and it comes with a heavy-duty case for reasons I never understood (why not sell the cover separately like every other Kobo that's been released and sell the Elipsa for even less?).
With the (relatively) new zoom lock feature, I would say that PDFs are better in some respects on the Elipsa than Amazon's current half-assed approach on the Scribe, but the notetaking aspects for PDFs are pretty basic—there's just one pen type with one line size.
The Kobo Elipsa has a 10.3-inch E Ink Carta 1200 screen with 227 ppi. It has a frontlight but it lacks temperature control like other models, but it does officially support the Dark Mode feature for white text on a black background. It comes with a stylus for notetaking, and it's an MPP stylus unlike most eNotes that use Wacom touchscreens.
The Kobo Elipsa supports dual-band WiFi and it has Bluetooth for streaming audiobooks, and it has a USB-C port and a quad-core CPU. It also has DropBox support for transferring files wirelessly, but the Kobo Elipsa isn't waterproof like most other Kobos.
See my Kobo Elipsa review for more details about the device. There's also this separate PDF review (they added the ability to lock the zoom level since then to help minimize large margins) and here's the link to the comparison between the Kobo Elipsa and the Kindle Scribe.