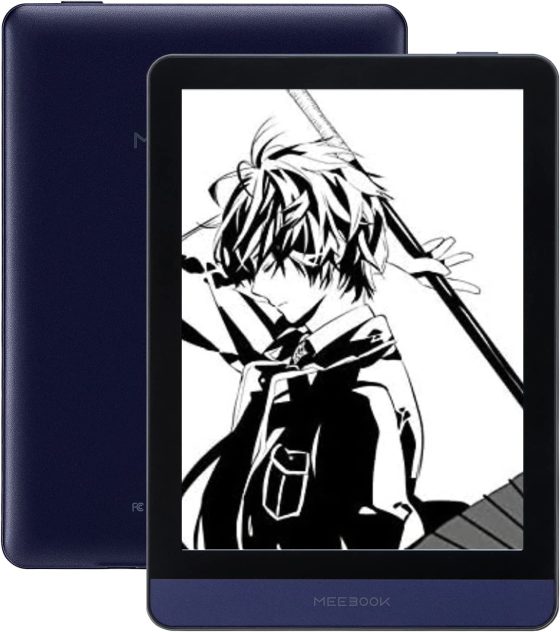 There's a new Android-powered ereader for 2023 from Meebook that's now available to order on Amazon for $159 with free shipping called the Meebook M6.
It appears to be a newer version of the Likebook P6 from 2021. But it has twice as much storage space with 32GB, along with 3GB of RAM instead of just 1GB, it has a dual-colored frontlight (warm and cool), and it runs a newer version of Android (11 instead of 8.1).
The Meebook M6 is also one of a few ereaders that has a microSD card slot, and it supports cards up to 1TB, so it has more storage space than most people could ever use.
The device has a 6-inch E Ink screen with 300 ppi, and it appears to have a flush front layer. It has a quad-core 1.8GHz CPU, it supports dual-band WiFi and Bluetooth 5.0, it has a USB-C port with support for OTG, and it has a 2200mAh battery.
The weight is listed at approximately 190 grams, and the measurements are 152.5 x 109.7 x 7.1mm.
Overall the specs are quite a bit better than the Onyx Poke4 Lite, which also runs Android 11 and has a 6-inch E Ink screen (but with only 212 ppi), and the Meebook M6 is only $20 more. They also mention it has support for Dark Mode, which is something oddly missing from Onyx's devices.
If you want a 6-inch ereader that runs Android and is more open and versatile than a typical ereader, the Meebook M6 looks like it has a pretty good set of specs and features for the price. I haven't reviewed any of these type of devices lately, not since they changed the name from Likebook to Meebook, but on paper the Meebook M6 has some good things going for it.
It just turned up on Amazon a couple of days ago so the shipping date is still 1-2 months out, but Amazon's estimates are usually on the conservative side so it'll probably be available sooner than that.