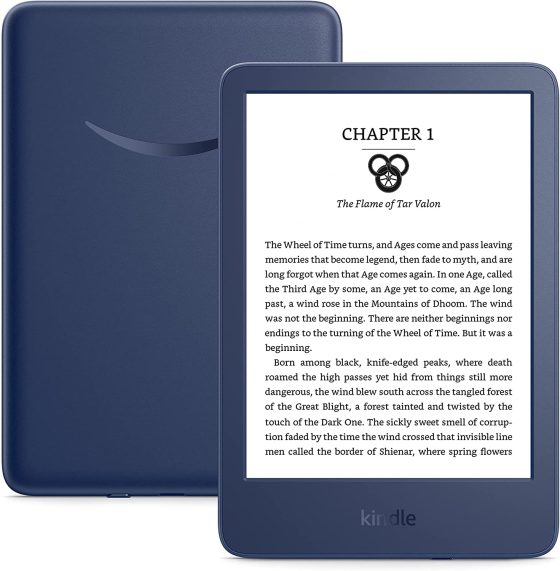 Back in the early days of Kindle ereaders, the first couple of generations were only available in white, and then when the Kindle Keyboard and Kindle DX were released in 2010 they started offering black versions alongside white.
Then Amazon switched to only offering a grey color they called graphite for the Kindle Touch and Kindle 4, and then after that Kindles were only available in black for several years.
But in 2016 Amazon finally brought back the option to get a white basic Kindle, and they also released a white version of the Kindle Paperwhite 3 around the same time.
Now most Kindles are available in different colors, although with the Kindle Paperwhite only the back and front border is a different color—the front is black either way. The Kindle Scribe is the only current Kindle available in one color only.
The Kids Kindle bundles are also a bit odd in that they are only offered in black. There are different colored covers to choose from, but you can only get the black version of the Kindle and Kindle Paperwhite when buying a kids bundle.
Amazon always has weird names for their colored Kindles. Instead of blue, they call it "denim". Instead of silver it's "graphite", or sometimes black.
The Kindle Oasis is available in Graphite and Champagne Gold. The latest entry-level Kindle is the first blue Kindle offered, and it's also available in black. Amazon recently added more color choices to the Kindle Paperwhite with the addition of Denim and Agave Green.
Back before frontlights were common, black ereaders were known for having better contrast than white ereaders because of an optical illusion that makes it seem like text is darker with a black bezel. The color of the border surrounding text makes a surprising difference in what our eyes perceive, as the picture below illustrates (boxes A and B are the same color).
Frontlights seem to minimize this effect somewhat, as shown in this White Kindle and Black Kindle comparison, although black ereaders still have a slight edge in perceived contrast. But with white ereaders the frontlight can help make the page blend in with the border, which has its own kind of unique visual effect.
So, what is your favorite Kindle color?