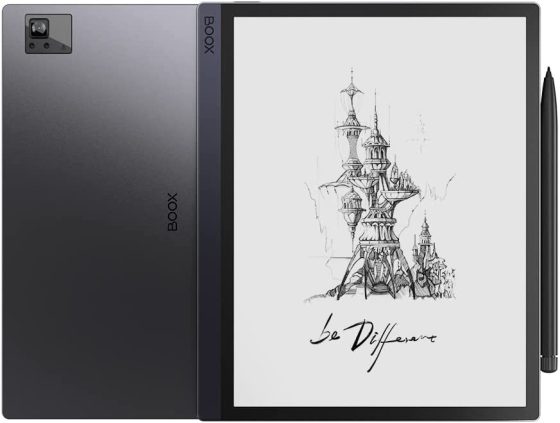 This is a bit unusual. Onyx has the 10.3-inch Boox Tab Ultra on sale at Amazon for $559 with free shipping. That's $40 off the regular price and it's the first and only time I've seen the Tab Ultra on sale since it was released last November.
Onyx occasionally runs sales on their website but they rarely put their current models on sale at Amazon; they usually only discount them when they get replaced by a newer model.
The Tab Ultra was released less than 5 months ago so it's probably not getting replaced yet, but then again you never really know with Onyx. They've been known to come out with new models at an unprecedented pace.
The Tab Ultra is part of a new product line from Onyx, along with the larger 13.3-inch Tab X. Unlike most E Ink devices, the Tab line has a dedicated GPU to improve performance of the E Ink screen, so they can do things like scroll and play video smoother than typical E Ink devices.
Specs-wise the Tab Ultra is powered by an octa-core CPU with 4GB of RAM and it has 128GB of storage space; plus there's a microSD card slot. The device supports dual-WiFi, Bluetooth 5.0, it has a rotation sensor, a fingerprint reader, a USB-C port, dual microphones, dual speakers, and it has a large 6,300mAh battery. There's also a 16MP rear camera.
Unfortunately the Kindle Scribe is the only 10-inch E Ink device that currently has a 300 ppi screen. That's the one area where the Tab Ultra is lacking. It has a 10.3-inch E Ink Carta screen with 227 ppi like other eNotes, and a frontlight with adjustable color. The device also has a Wacom touchscreen and comes with a stylus.
At $559 on sale, the Tab Ultra is still quite a bit more expensive than the Kindle Scribe and the new Kobo Elipsa 2E, but with the advanced specs and the open Android 11 operating system it's a lot more capable than either of those devices. Onyx is marketing the Tab Ultra as more of a tablet PC type of device, and they also sell a keyboard case for it.