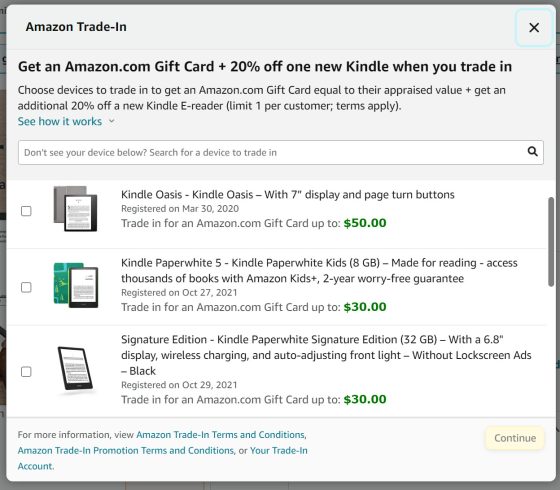 Occasionally I used to post a list of trade-in values for all Kindles (the last time was August 2021), but then Amazon changed the format of their trade-in page so now you can only view the trade-in values of Kindles registered to your account.
The oldest Kindle registered to my account is the Kindle Voyage, and it's only worth $10 (it's worth way more than that on eBay). The slightly newer Kindle Paperwhite 3 is only worth $5 for trade credit. But both had those same trade-in values in 2021.
Back then the 9th gen Kindle Oasis had a trade-in value of $75. Now it's down to $50. That's a pretty big drop-off, but then again it was released in 2019 and is the oldest Kindle in the current lineup, and it's still worth $20 more than the newer Kindle Paperwhite that was released in 2021.
What I find surprising is the Kindle Paperwhite Signature Edition only has a trade-in value of $30. Considering it sells for $190 new, that's pretty low.
The kids version of the 8GB Kindle Paperwhite also has a trade-in value of $30, so the upgrades on the Signature Edition add no additional trade-in value. That's interesting.
The 10th gen Kindle is listed at $20, and it sold for $89 new so it would seem the trade-in value of the SE is unusually low. Maybe it's a simple matter of having too many Signature Editions already; Amazon currently has refurbished units on sale for $125.
Amazon's trade-in values are usually on the low side anyway, but the real benefit comes from the extra 20% discount that you get when purchasing a new Kindle. Even if you have a broken Kindle, you can a $5 credit and 20% off a new Kindle for sending it in. The discount also stacks with sales so you can usually get a newer Kindle for a really reasonable price with a trade-in.