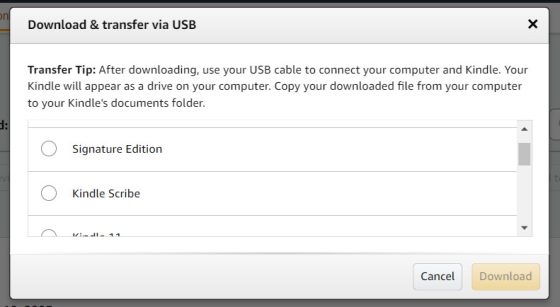 There are some people that believe Amazon is taking steps to slowly eliminate the option that allows Kindle owners to download purchased ebooks from Amazon's website for USB transfer.
Earlier this year Amazon stopped allowing people to download Kindle Unlimited titles for USB transfer, and the option to download samples was removed some time ago as well, so they've already started to remove the USB download option in some instances.
The advantage of downloading ebooks from Amazon's website for USB transfer is the fact that they get delivered in Amazon's older format, and the DRM can easily be removed from them so they aren't locked into the Kindle platform.
There are still some people that don't have WiFi access as well, so they need a download and transfer option in order to get purchased ebooks onto Kindles, but the number of people in this category is likely very low and shrinking by the year.
There are also some people that simply prefer to use other brands of ereaders instead of Kindles but they still buy ebooks from Amazon for some reason or other, and Amazon has locked many authors that use Kindle Unlimited into exclusivity contracts so they're not allowed to sell their own ebooks on other platforms.
Most other options for downloading Kindle books result in ebooks getting delievered in Amazon's newer KFX format, and DRM cannot be removed from KFX ebooks.
Older Kindles don't support KFX format so Amazon has to keep their older ebook format around for them. But what's going to happen in 5 or 10 years when the usage numbers for these olders Kindles is so low that Amazon can cut them off with minimal impact? Kindles don't last forever. Eventually older models will become unsupported at some point.
When that happens, is Amazon going to disable USB transfers altogether? The option is kind of a holdover of an older time anyway when WiFi wasn't so widespread. Not all ebook stores offer a USB download and transfer option. Maybe Amazon is headed that way too, or maybe they'll just switch everything over to KFX format and leave older Kindles out of the loop.