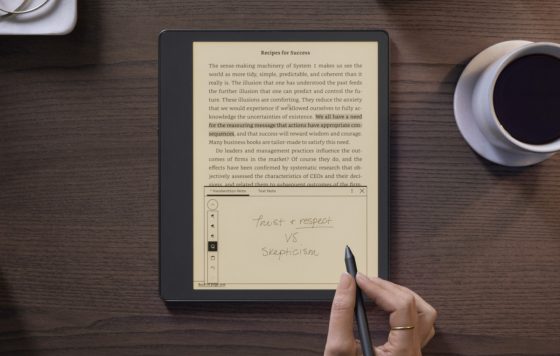 The Kindle Scribe is one of the best Kindles that Amazon has ever released, but it doesn't get the same level of appreciation as other Kindles.
On Amazon's website the Kindle Scribe has a 4.1-star rating as of this writing, which makes it the lowest-rated Kindle in the current lineup. All other models have either a 4.6 or 4.7-star rating based on customer reviews.
Early on the Scribe had a 3.6-star rating, then it edged up to 3.8, and now it's a respectable 4.1, but I still think that's way too low, especially considering how much less the Kindle Scribe sells for compared to similar 10-inch E Ink eNotes.
I have the Kindle Scribe at #4 on my list ranking all Kindles from worst to best all time, but at this point I would probably put it at #2 behind the Kindle Voyage for my personal list (the Kindle Voyage had a 4.2-star rating at Amazon so it didn't exactly have a high rating either).
The Kindle Scribe started off on shaky ground because it had a very basic Notebook app when it first launched, but after three software updates the Notebook app has a lot more going for it now.
Even if the Kindle Scribe didn't support stylus writing at all, I think it would still be one of the best Kindles simply because it's only the second large-screen Kindle that Amazon has released, and it's miles ahead of the old Kindle DX.
Not everyone needs a 10-inch reading device, but after you use one for a while the larger screen really starts to grow on you. I've been saying for years that 10-inch E Ink ereaders are majorly underrated. That's really a great screen size if you don't rate portability high on your scale of needs.
The more I use other eNotes the more I like the Kindle Scribe. It's not as advanced as Onyx's devices, but the overall reading experience is better on Kindles than with Android apps that aren't designed for E Ink screens, and screen refreshing is a lot smoother and faster overall, with much less ghosting. The design is actually really nice too; it feels nicer in-hand than most other devices.
There are still a number of things Amazon could do to improve reading and writing on the Kindle Scribe, so it's far from perfect, but they're off to a good start with three software updates in six months. Hopefully the negative reviews and lower sales volume won't dissuade Amazon from continuing to develop it.