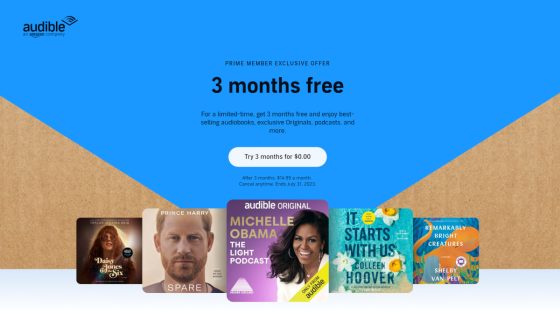 In addition to the $89 Kindle Paperwhite deal and Kindle Rewards offer I posted about yesterday, there are a couple of Prime exclusive deals for Kindle Unlimited and Audible audiobooks ongoing right now as well.
Amazon Prime members can get 3 months of Kindle Unlimited for free. If you're not a Prime member you can still get 2 months free with this previous offer. Like usual with these types of deals, they're not available for accounts that already have an active Kindle Unlimited subscription, and there are some other restrictions as well.
Keep in mind, Amazon will automatically start charging the standard fee of $11.99 per month after the extended trial period for these offers so make sure to cancel before then if you want to avoid charges. You can actually cancel right after accepting the free offer and it will still remain active for the duration of the trial.
Here's an article that explains how to quickly and easily cancel a Kindle Unlimited subscription.
Audible Deal
There's also a free 3 month trial deal at Audible for Prime members. You can get a 3 month Audible Premium Plus subscription for free.
With this deal you can pick one bestseller or new release each month, and you get to keep them permanently. You can also listen to thousands of audiobooks, podcasts, and Audible Originals.
After the free 3 month trial ends, the monthly charge is $14.95 per month if you don't cancel. This offer ends on July 31st, 2023, and it's only available for new customers who are also Amazon Prime members at the time of sign-up.
If you don't have an Amazon Prime membership you can usually get a 30 day free trial for Prime if you haven't done so recently. Prime Day is on July 11th and 12th this year so there will be a lot more Prime exclusive deals coming.