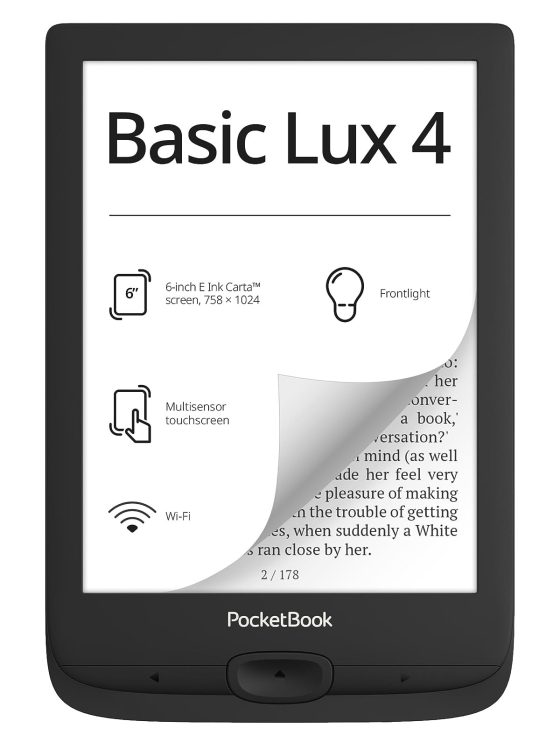 PocketBook has released a new basic model called the PocketBook Basic Lux 4, and it's available to order on Amazon for $109 with free shipping.
The Basic Lux 4 has a 6-inch E Ink screen with 212 ppi, and it has a frontlight but without adjustable color temperature. It has 8GB of storage space and there's a microSD card slot for expansion. It also has a USB-C port and WiFi for connectivity.
Like most PocketBook models, the Basic Lux 4 has physical page-turn buttons that are located below the screen. It supports a number of common ebook formats, including ebooks with Adobe DRM, and it also supports Dropbox for wirelessly transferring files. The weight of the device is listed at 155 grams.
I'm having a hard time figuring out how the Basic Lux 4 is different than the previous Basic Lux 3. At first glance it doesn't really look like anything has changed, other than switching from a microUSB port to a USB-C port. The middle button also looks like it's slightly different, but it's hard to tell from the pictures.
PocketBook still hasn't officially announced the Basic Lux 4 yet, even though it's available to purchase, so maybe some more details will be revealed in the press release.
This is the third new ereader that PocketBook has released this year, along with the InkPad 4 and the InkPad Color 2, both with 7.8-inch screens.
It's good to see another inexpensive 6-inch ereader hit the market in the $100 range. It doesn't have as high of a resolution screen as the basic Kindle, but it has a microSD card slot and physical buttons, unlike the Kindle, so it has some unique features of its own. Most ereaders don't have page buttons or a memory card slot these days so at least PocketBook is still providing those options for people that want them.