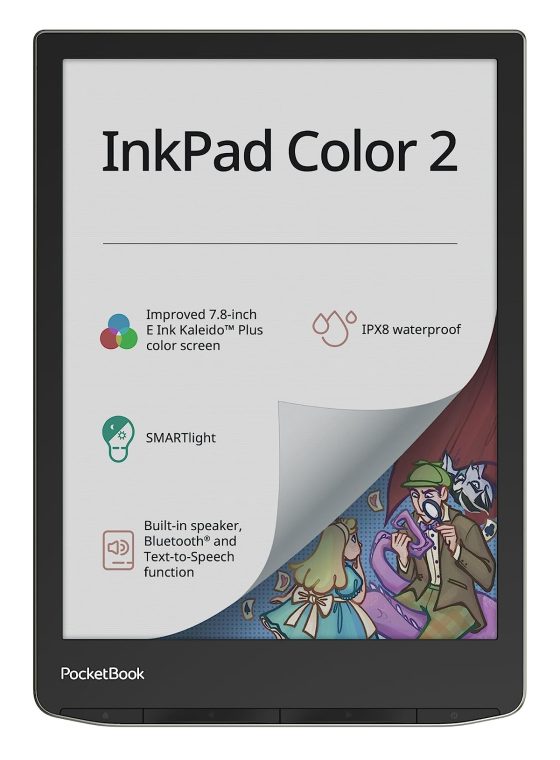 PocketBook announced a successor to the InkPad Color back in April, and now it's finally available to purchase from PocketBook's official Amazon store for those looking to get a color ereader.
The PocketBook InkPad Color 2 is selling for $329 with free shipping, the same exact price as the first generation model. PocketBook is also selling a flip cover for the InkPad Color 2 for $25, but shipping is still listed at 1-2 months out.
The PocketBook InkPad Color 2 has a new design with a flush front screen like the recently-released InkPad 4, and it features a number of upgrades over the 1st gen model. Update: Turns out it has an indented screen, unlike the InkPad 4.
I reviewed the 1st generation InkPad Color two years ago, and I thought it was a pretty nice device for the most part, except it was one of the slowest ereaders I've ever used. This newer model has an upgraded quad-core CPU so hopefully the performance has improved.
The new model is also waterproof, and the storage space has been bumped up to 32GB. They added a warm frontlight as well (the 1st gen model only had a cool-colored frontlight), and they also added a speaker for listening to audiobooks and text-to-speech.
They say the 7.8-inch color E Ink screen has been improved on the PocketBook InkPad Color 2, but they're still using an older Kaleido Plus screen for some inexplicable reason instead of the newer Kaleido 3 screens with better resolution for color (150 ppi vs 100 ppi with Kaleido Plus). The new Onyx Tab Mini C has a Kaleido 3 screen, but it costs $120 more than the Inkpad Color 2 (it also has a lot more features, like notebook support).
The InkPad Color 2 has a USB-C port, it supports dual-band WiFi, and it has Bluetooth for streaming audio. It's kind of hard to see in the pictures, but the device has physical buttons along the bottom edge of the screen so that's bit unique compared to other brands.
PocketBook InkPad Color 2 Video