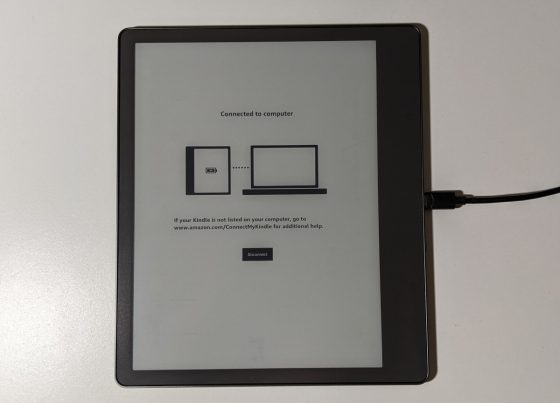 Amazon released a software update for Kindle ereaders earlier this week, and like usual their release notes don't provide any useful information whatsoever, but it turns out there's a major change with the update that affects how the Kindle Scribe connects with computers.
With firmware version 5.16.3, the Kindle Scribe now uses MTP (Media Transfer Protocol) instead of USB mass storage when connecting to a computer, so it basically works like an Android device now.
Windows computers have MTP support built-in, but you'll notice some differences when connecting your Kindle Scribe to a Windows computer. It no longer shows up as a letter drive; now it shows up as a "Kindle Scribe" device when connected.
On Mac computers running OSX 10.5 and above you have to install Android File Transfer software if you don't already have it installed in order to connect the Kindle Scribe to your Mac.
The Kindle Scribe now shows a different screen when connected to a computer, and there's a "Disconnect" button to tap when you want to disconnect it from your computer.
Using MTP is causing some issues for those that use Calibre to manage their ebook library because now the Scribe is being recognized as an MTP device instead of a Kindle, but hopefully things will get worked out soon.
It's hard to see how this change benefits users at all. In fact it makes things more difficult in some ways. The question is why is Amazon suddenly and without any warning making this change? Something is going on behind the curtain that we don't know about.