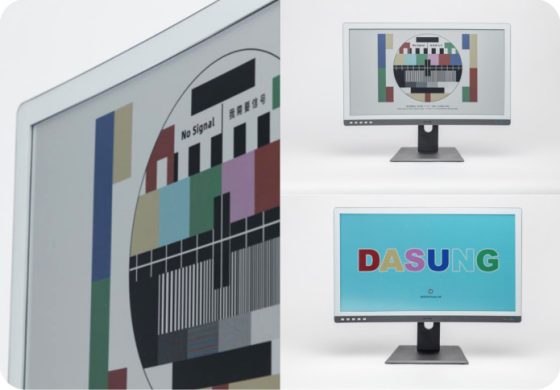 Dasung has launched a crowdfunding campaign on Indiegogo for a new E Ink monitor called the Paperlike Color. It has a 25.3-inch color E Ink screen, and it's the first of its kind.
Dasung has been making E Ink monitors going back to 2014 with their first gen PaperLike monitor, but this is their first monitor to use a color E Ink screen, and it's using the latest version of this particular type of screen technology, called Kaleido 3.
They're selling four different versions of the Paperlike Color. There's a Curved Screen Version and a Dark Knight Version, and both are available with or without a frontlight.
All versions have a 25.3-inch Kaleido 3 color E Ink screen with a resolution of 3200 x 1800.
The monitor comes with an adjustable stand that swivels and tilts and it supports both portrait and landscape modes. The monitor has a pair of speakers built-in as well, and there are a number of ports, including HDMI, DisplayPort, Type-C, USB-A (3), USB-B, DC power, and there's a 3.5mm headphone jack. It also supports connecting wirelessly.
The estimate for shipping is December 2023 to January 2024. The prices range between $1500 and $1729, and that's with the "discount". Some of the options are sold out. It's definitely a niche market, but some people really like E Ink screens, even on computer monitors.
The video below shows the Paperlike Color in action. It looks surprisingly nice. Color E Ink has improved a lot in recent years. I was impressed with the Kaleido 3 screen on the Onyx Tab Ultra C that I reviewed a couple months ago, and I've been waiting to see more devices that use Kaleido 3. Dasung's "Turbo Ultra-speed Refresh tech" appears to work really well too. There's not much ghosting visible on the screen, especially when scrolling and using the web browser.
Dasung Paperlike Color