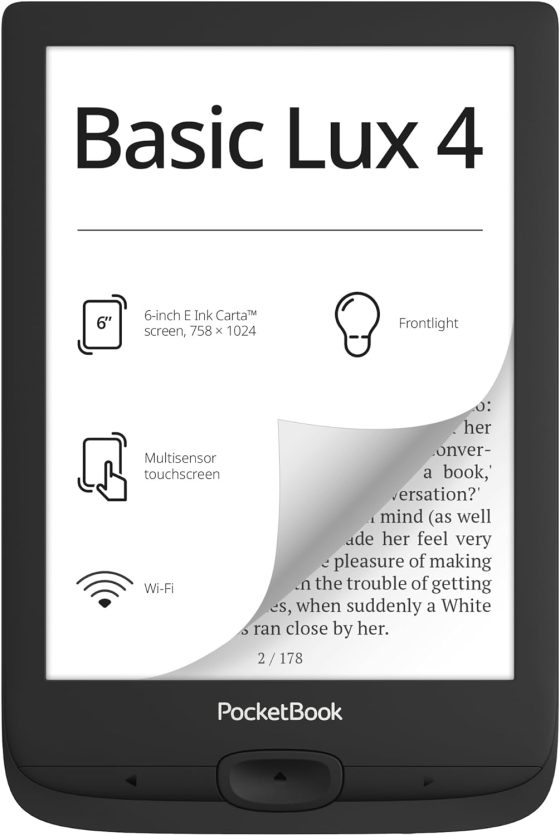 I bought a couple PocketBook ereaders to review the last time they were on sale—the new Basic Lux 4, and the InkPad Color 2—and there's one persisting issue that always bugs me when I'm using a PocketBook ebook reader and it's something they really should address.
For the most part, I like PocketBook's software. They offer some advanced customization options, and the software is quite a bit zipper than it was the last time I reviewed a PocketBook ereader, but when it comes to the actual reading experience PocketBooks are missing a couple of key features.
Kindles and Kobos, and even Onyx's Boox devices, support adding custom font types to their ereaders so you can read using your favorite fonts. Most reading devices also offer a boldness slider or some form of contrast adjustment to add weight to the text. Not PocketBooks.
I could get by without a boldness slider if the included font types were any good, but the included font choices on PocketBook's devices are abysmal. It's like they just added some random free font types as an afterthought. They don't appear to be optimized for E Ink screens at all. Most are too skinny, and they have a "rough" appearance to them that makes the text look faint and fuzzy.
I read through every page of PocketBook's user manual and there's nothing about sideloading custom fonts. I tried adding a "fonts" folder to the device like how it works with other ereaders, but that did not work.
Luckily there's a workaround for this. You can use Calibre to embed custom fonts in ebooks using the conversion process, and that works well, but it's not exactly convenient. I use to have to do the same thing with Sony's ereaders 10 years ago. It's surprising PocketBooks still don't support adding custom fonts or have any kind of boldness adjustment.
Most font types do have the option for bold, but it's way too bold and it can't be adjusted at all. It would be really nice if PocketBook reworked their font options. It's the only real problem I have with their software.