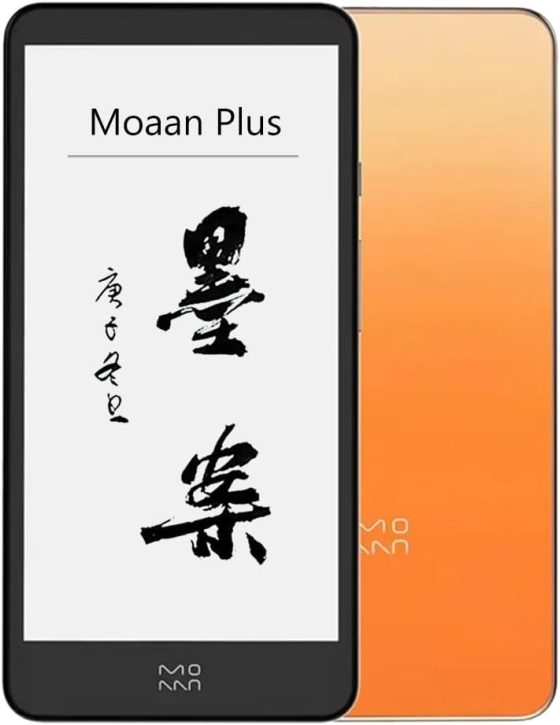 I noticed a new listing on Amazon for the Moaan InkPalm Plus, a mini ereader with a 5.84″ E Ink display that looks more like a phone than a typical ereader.
The InkPalm Plus was released last year in China so it's not exactly new, but now it's available to purchase on Amazon. It's being sold by a third-party seller, but Amazon is listed as the shipper so returns are easy to deal with if there are any problems.
The InkPalm Plus is another one of these phone-type ereaders with a narrower screen and smaller size for increased portability, but it's not actually a phone.
It's a newer, upgraded version of the InkPalm 5 that turned up for sale on Amazon earlier this year for around $139—and it's still available to purchase as well, along with the InkPad 5 Pro.
The InkPalm Plus has twice as much storage space (64GB) and RAM (2GB) as the InkPalm 5, along with a faster CPU and a larger battery, and it also runs a newer version of Android (Android 11). The screen is a bit larger too at 5.84″ (the InkPlam 5 has a 5.2″ screen), and at 140 grams it's about 25 grams heavier.
The E Ink screen has a resolution of 1440 x 720, which equates to 276 ppi. There's also a frontlight with adjustable color temperature. The device supports dual-band WiFi and Bluetooth 5.0 as well. The dimensions are listed at 158.9 x 78.6 x 6.9mm.
The current price is a bit unusual at $239.62, but there's also a $25 coupon to take the price down to just under $215.
The listing specifically states that Google Play is not supported, but one of the pictures does show an appstore and it says the device is capable of installing apps. It looks like KOReader comes installed too so that's a plus; it supports a variety of common formats.
The InkPalm Plus looks like a good alternative to the new Onyx Boox Palma for those looking for a cheaper option. The Palma has better specs and most likely better software, but at $279 it's pretty pricey for a mini ereader.