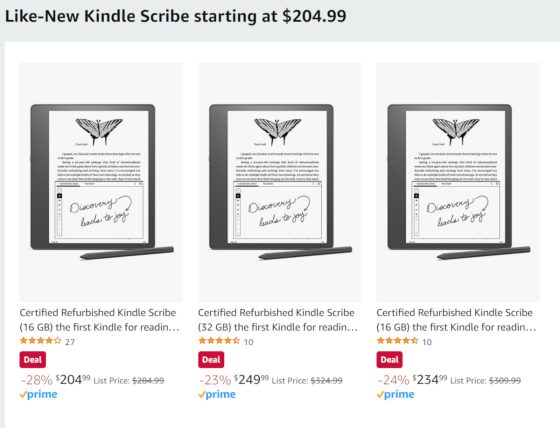 If you're looking to get a Kindle Scribe for cheap, Amazon currently has refurbished Kindle Scribes available and they're being advertised as "like-new" condition, and the price is lower than it's ever been before.
The 16GB model with the basic pen is $204.99 with free shipping. That same Kindle Scribe sells for $339.99 new, and the list price of refurbished units is normally $284.99 so it's a significant discount either way you look at it.
They also have the 32GB model with the premium pen for only $249.99. It might be the best deal overall if you plan on using the device for notetaking, as the basic pen is going to be annoying to use long term without an eraser or shortcut button. New, the 32GB version sells for $389.99.
They do have the 16GB version with the premium pen for $234.99 but at that price you might as well spend $15 more and get double the storage space.
The 64GB Kindle Scribe isn't show as part of the deals on main landing page, but it's being discounted too. They have it marked down to $264.99. It usually sells for $419.99 new so again that's a massive discount.
Buying refurbished Kindles from Amazon is usually a pretty safe bet. They come with the same warranty as new Kindles, and they're usually in like-new condition.
If you'd rather get a brand new Kindle Scribe they'll most certainly be on sale later this month leading up to Black Friday, but don't expect the prices to be anywhere near this low. For this past Prime Day, the 16GB model with the basic pen started at $254.99.
Check out my Kindle Scribe review for a rundown of the features and to watch a video review of it in action. Amazon has updated the software a few times since it was released so there some additional features now too. When it comes to notetaking it's still more basic that other eNotes, but I think it's one of the best large-screen E Ink ereaders on the market, and it's seriously underrated for the price.